Traditional Spanish tapas are small portions of food that you can enjoy with a drink or sometimes as a complete meal. They can be cold, like cheese and olives, or hot, like calamari and croquettes.
You will often find something that looks like tapas in different countries of the world; There's Meze in Greece, Bocas in Central America, and Botanas in Mexico.
The History of Tapa
There are a few different opinions about the origin of the name tapas. The primary one is that the word comes from the verb 'tapar'. This means "to cover".
In pre-19th century Spain, tapas were a way for innkeepers to sell their food. Because they could not write and the guests could not read, they gave the guests a sample of the food. This sample of food came as a 'tapa' or a pot/glass cover.
So, the original tapas were thin slices of meat or bread that were used to cover glasses between sips, a simple way to keep the fruit flies out of the sweet sherry.
The meat was usually ham or chorizo, which was very salty and resulted in making the patrons thirstier.
Bartenders and restaurant owners wanted to increase their alcohol sales and thus started creating snacks to serve with the sherry. Eventually, the tapas became just as important as the sherry.
Where and when do you eat tapas?
You can find tapas in a lot of places in almost all the cities and towns of Spain. From bars and small local restaurants to big tourist spots, tapas are an integral part of Spanish gastronomic heritage.
Tapas are especially prevalent in Murcia (an unmissable Spanish culinary paradise), Andalusia, Extremadura, León, and Ciudad Real. Here, tapas are a traditional food.
As dinner is very late in Spain, between 9 and 11 p.m., there is a lot of time between work and dinner. As a result, locals go from bar to bar after work, eating some tapas and enjoying a drink or a few.
Over the weekend, lunch is between 1 and 4 p.m. Tapas is a way to fill the time up until noon. Just as a little snack between meals.
The tapa was typically free in the olden days if you bought a drink. Nowadays, you have to pay in most places.
A simple tapa is around 1 or 2 euros, and the more special ones are about 3 to 4 euros. The price depends on the ingredients, the location, and the portion size.
Three different-sized portions:
Tapa: A small plate with just a few bites. For example, a small bowl of olives or 3 croquetas.
Media ración: Half a dish. This is just a bit more and would consist of around 5 croquetas.
Ración: A complete dish. This is a bigger plate, often shared. If you are with a group, order a few racións and try them all. It will be cheaper than ordering a lot of different tapas.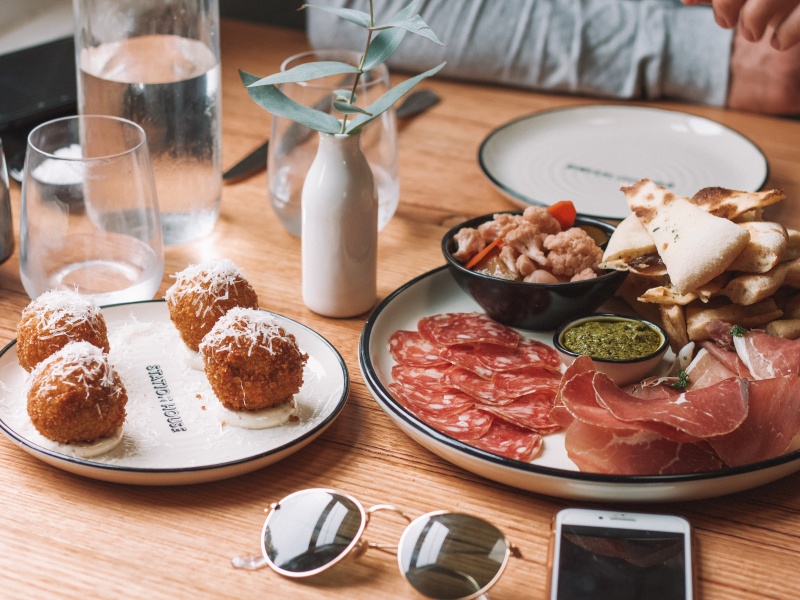 Different Kinds of Tapas
There are many different types of traditional Spanish tapas. You have them with vegetables, chicken, pork, or fish.
Basically, whatever you can think of, there is probably a tapas version of it available.
Cold tapa:
The most famous cold tapa is olives. They can be pitted or filled with anchovies, almonds, or even bell peppers.
Jamón Iberico is also very popular. With or without bread, this dried ham tapa is always delicious. Similarly, different kinds of cheese make for excellent tapas, eaten with some crackers or bread.
Salads are often served as tapas and range from Potato salad to an exotic goat's cheese salad.
A unique form of tapas is the sauce tapas. Aioli, garlic mayonnaise, Verde, parsley, and garlic sauce are just a few different variations. These appetizers, best eaten with some bread, chicken, or seafood, make for a yummy and quick snack.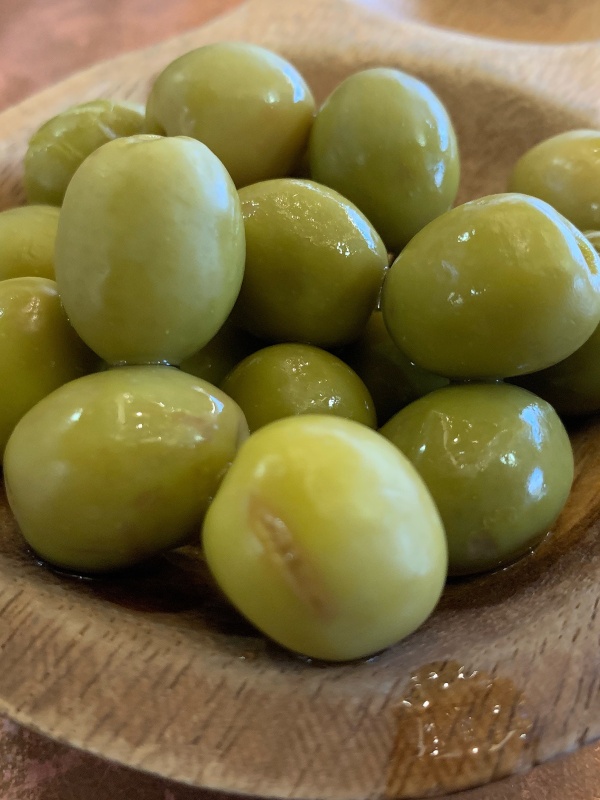 Warm tapas:
Warm Spanish tapas are my favorite. I love meat and fries and anything that goes along with them. So, it's always warm tapas over cold ones, even though I appreciate them both.
Very much like the cold tapas, the warm versions are quite distinct and varied. Ingredients for these consist of fish, meat, or vegetables.
There are the Pinchitos or the skewers. Most of the time, you get some fries with it, but not necessarily. They are always well seasoned and prepared on the grill or BBQ.
While the chicken skewer – Pinchito de Pollo – will mostly have pieces of grilled chicken with some flavoring sauce and chips, the vegetarian version – Pinchito de verduras – has a few different ingredients. Although these tapa-sized bites vary from restaurant to restaurant, Onion, Bell pepper, Eggplant, and Zucchini are common in this dish.
Croquettes are awesome. I love them, and I even make them at home after trying for the first time last summer. Most families make them at home with leftover food from the previous day.
In restaurants, they are prepared from scratch every day. The recipes for croquettes are often passed from one generation to another with some modification, and every restaurant makes a slightly different version that is unique to them.
A full portion of ración or croquettes will have approximately eight pieces and is enough if it is the only thing that you order. I love them so much that I can eat a whole portion for lunch.
The more traditional ones are with jamón of ham. But you also have them with spinach, pine nuts, chicken, fish, shrimp, cheese, and more.
Some of the other well-known traditional Spanish tapas are:
Albóndigas: Meatballs in tomato sauce
Calamari: Fried and battered squid rings
Chorizo al Vino: Chorizo slowly cooked in Wine
Empanadas: Meat and vegetables filled turnovers
Patatas Bravas: Fried potato dice with a spicy tomato sauce
Tortilla Española; A Spanish omelet made from potatoes with egg and sometimes onions.
Montaditos: Small-filled buns, often toasted. A lot of different possibilities for the topping.
Spain has more unique tapas than anywhere else in the world. The best way to discover these culinary bites is to go to a bar and simply try some.
I recommend not even asking for the English menu. Instead, start ordering random Spanish things. Then, take pictures of the ones you like, and ask the staff about them afterwards.
This is definitely a more exciting and adventurous way to learn something new and simultaneously appreciate the culinary culture of Spain, which is as vibrant as its many tourist spots.
So, it's now time to enjoy some traditional Spanish tapa and, of course, the many drinks that come with it.
About the Author: Hi! I am Caitlyn, and I am from Holland. I fell in love with traveling a few years ago, and now I have also started writing about it. My goal is to get others to fall in love with travel. Feel free to follow me on Instagram, and take a look at all my adventures on my blog With Caitlyn.