This isn't about gambling, so there is no punter here trying to take your money away. You can relax now.
Cambridge is your quintessentially charming British city. It's a university town, immaculate in appearance, and proud of its history and heritage.
Known the world over for and because of the many movers and shakers who have passed through its many colleges, Cambridge attracts not only students from all around the world but also tourists in vast numbers.
For individuals like myself, the only chance we will ever get to tell someone that we are "Cambridge return" is by actually visiting the city as a tourist.
Since I have done that, I think it's okay to mention, in passing, that I have "been to Cambridge" even if the other person is asking about my educational qualifications. I mean, I did learn something new while I was there, so what if I didn't attend a university…officially.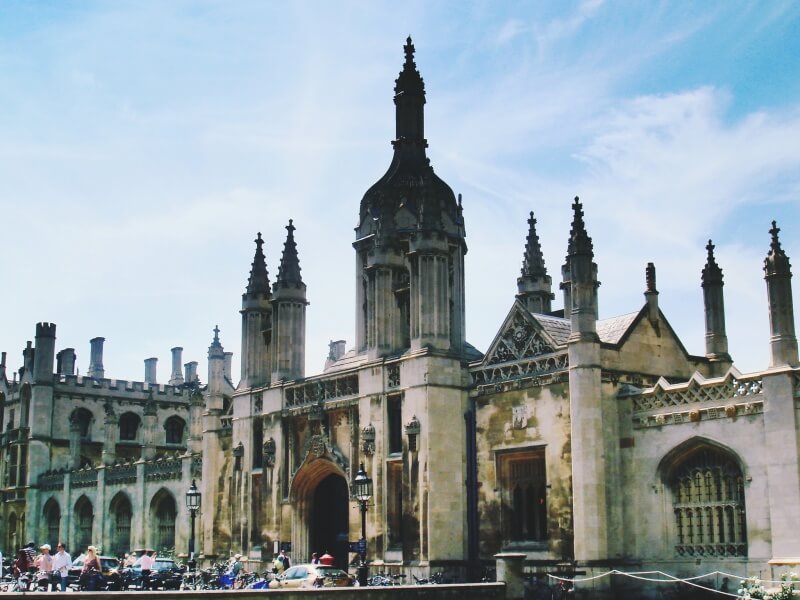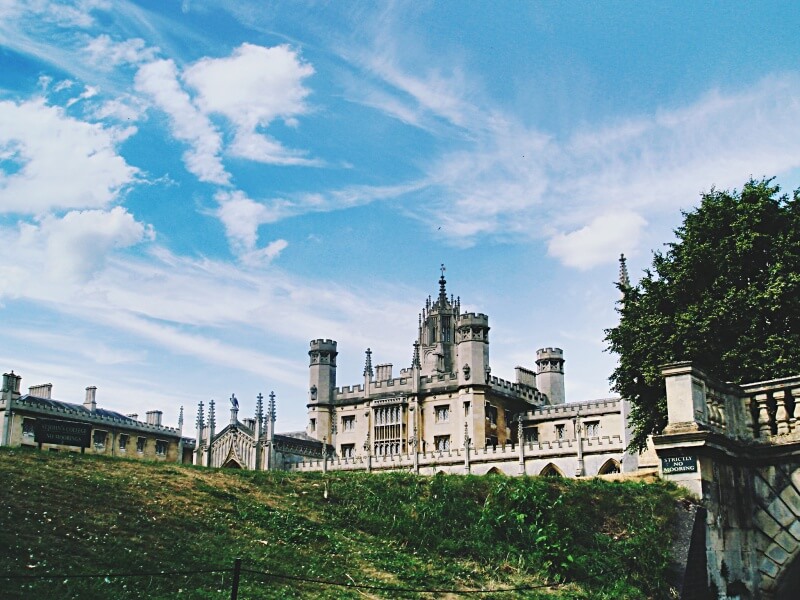 Jokes apart, what does one do in Cambridge, especially if it happens to be a bright and sunny day?
First of all, check if somehow Cambridge has miraculously teleported itself from England to some other part of the world, because let's face it, the chance of British weather being so good, especially on a day you are out visiting a new place, is unheard of.
Seriously though, and I mean it this time, if you happen to be in Cambridge on a beautiful day, make the most of it by spending as much time as you can on the outside.
Trust me, the colleges aren't going anywhere. They have been standing tall for decades, centuries, and when you've seen a couple, you've seen them all. It's a guarantee.
Blasphemy? Not really.
They are gorgeous academic institutions that should be celebrated. Still, you can do that… from the outside, learn about them… from the outside, and appreciate their impressive architecture…from the outside. Save the whole "walking through the halls" bit for a rainy day.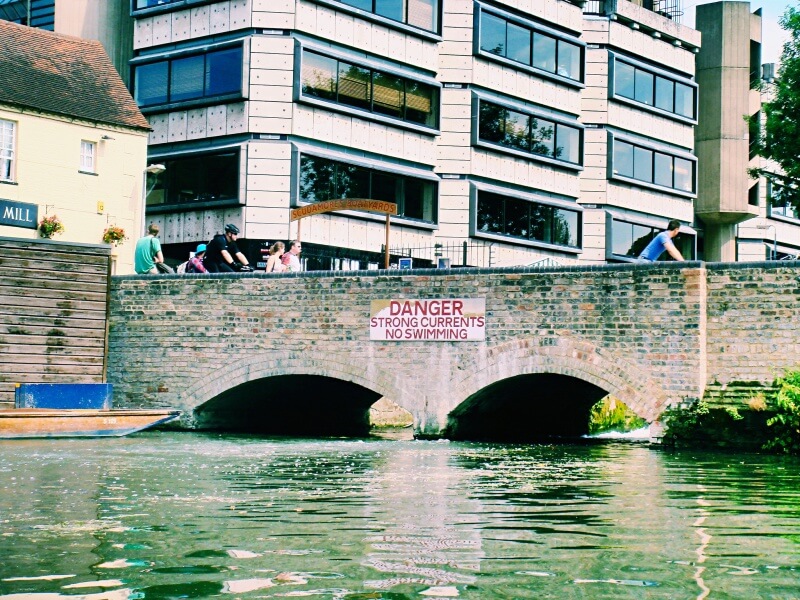 In fact, if this is your first time, and you are here for just a day, and there is even a remote chance you will return, then the museums spread across the city can wait too.
Be it the Fitzwilliam Museum, The Imperial War Museum, The Polar Museum, or the Cambridge University Museum, all are interesting places to visit and definitely educational in their own right. Still, you can easily skip a couple to immerse yourself in the city's vibe that comes alive on beautiful sunny days.
Which also includes partaking in an essential British experience. The tradition of Afternoon Tea is an integral part of life here, and quite honestly, with such tasty delights included, it's hard to skip, especially for a food lover like myself. So, from drinking a rejuvenating cuppa to biting into mini-sandwiches, scones, and cakes, tea time in Cambridge is exceptional.
Once replenished, head on out and enjoy the gardens surrounding the Colleges. The oh-so-pretty flowers blooming, trees giving shade, rolling green grass sort of parks where it is almost mandatory to have a picnic. Provided it is allowed to "Stay on the Grass." And no, not THAT kind of grass, HA HA! I get it; you are so hilarious.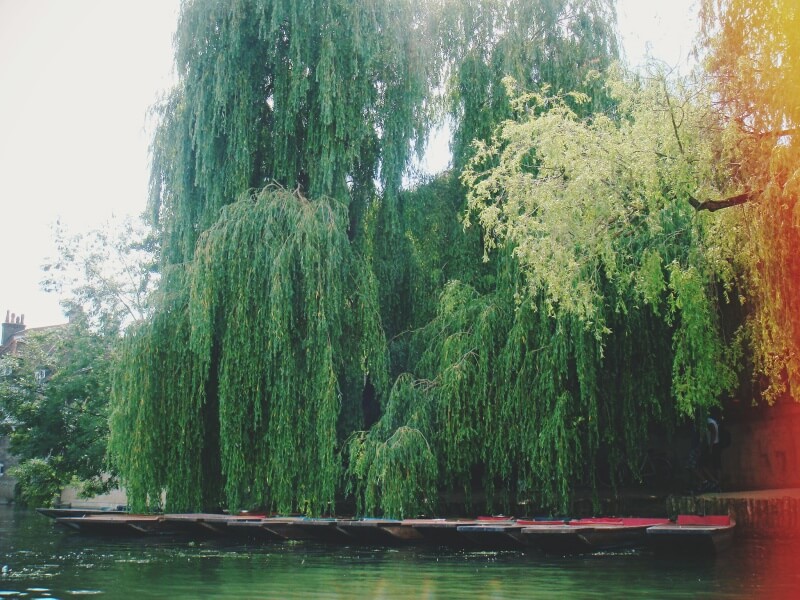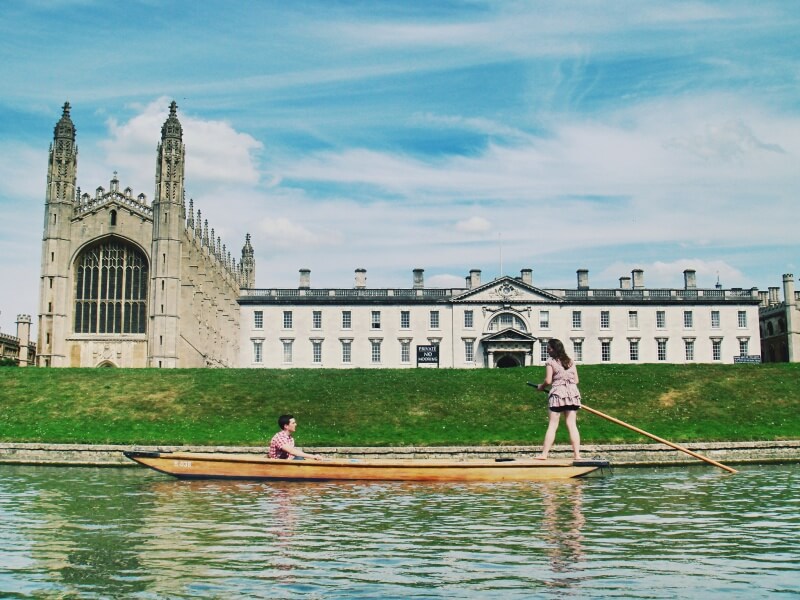 Enough about the grass, there's also an abundance of flora and fauna to keep you occupied. But even if the botanical names of plants don't fascinate you, the exquisiteness of the natural beauty is tremendously soothing to the eyes, and you've only got to be human to appreciate it all.
Of course, like any quaint British town, you must explore the streets of Cambridge for its delightful cafes and local shops (in addition to the high-street brands and souvenir stalls).
If you are a little nerdy and bookish, as I am, then a visit to the Cambridge University Press Bookshop should be on your must-visit in Cambridge list. But, if you just want to chill out, head to one of the bars by the river for a quick drink or two.
Cambridge is picture-perfect.
Now, one of my many regrets in life has been that I am artistically challenged, 'cause if I were not, then the city would be my muse, and nothing would pleasure me more than to sit under a tree, set up my easel, and paint away the beautiful scenes that would play out in front of my eyes.
Buildings with enchanting arches, the reflections in the water disturbed by the ripples whenever a boat would pass, and of course, the people who add character to the very nature of the city.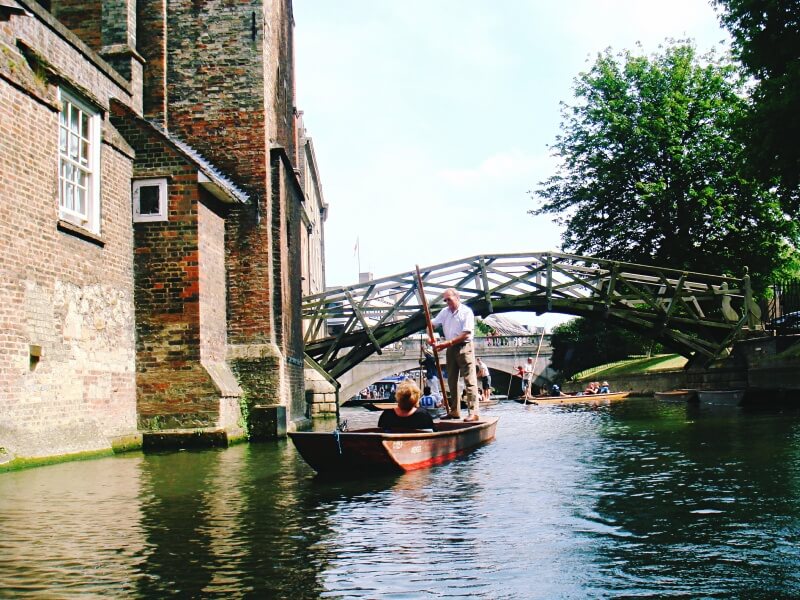 Now, the one excursion in Cambridge you must partake in, especially on a bright sunny day, is a ride in a Punt. A punt is a "long flat-bottomed boat, with square ends, propelled with a long pole," which can be found-a-plenty floating on the River Cam.
I must confess I did lie a little right at the start. There is a bit of gamble involved in taking a boat ride because now and then, it capsizes. Usually, the poor punter ends up in the water, much before they let any of their customers get wet.
However, I was informed that there had been cases where everyone was enjoying the local scenery one moment, and the next, they were taking a refreshing dip in the river.
I'm scaring you more than I should. It's perfectly safe, so don't worry; a leisurely ride in a punt is simply a must-do activity in Cambridge.
For the adventurous souls out there, and to some extent suicidal individuals, you can hire a boat and be your own punter.
Do keep in mind that it does get crowded, and if you don't know where you are going or end up in the wrong direction, remember what I told you about taking a dip in the river?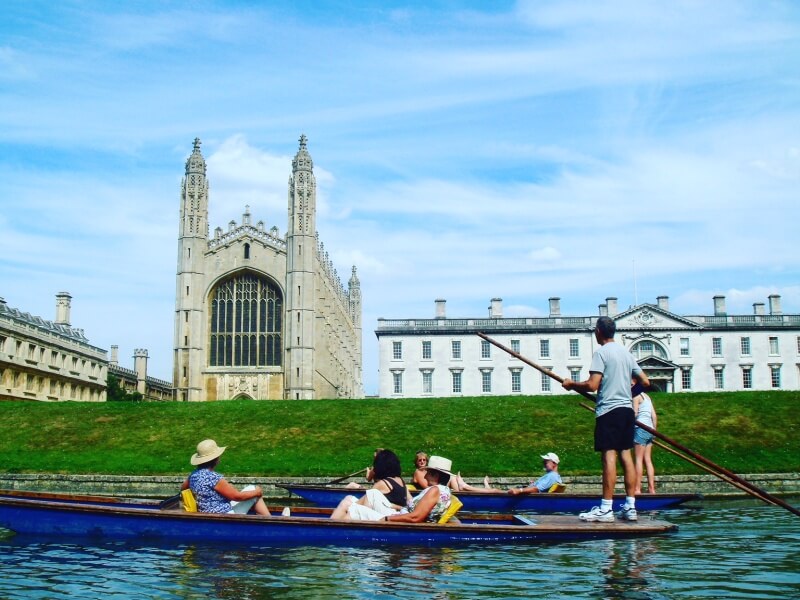 For a more relaxed day, let the professionals do their job. By doing this, you will also be helping the local student population, as most of them work as boatmen and boatwomen to earn extra cash.
During the high tourist season, students can be found spread across the main touristy areas enticing you to take a punt, so to speak.
Bargain with them because we were initially quoted £10 per person and £5 for my then 2-year-old daughter but eventually ended up paying £7 p/p, and my daughter went for free.
Also, do not feel bad about it, as, by bargaining, all you are doing is providing these young minds with the kind of business acumen that only real-life situations can provide.
I mean, if they had figured out we were outsiders and that we had a young enthusiastic child with us, they'd know that we would have even paid double for the ride. If you are in Cambridge and reading this, let this be a lesson to you.
If you luck out with a good punter as we did, they will also be your source of entertainment and information, giving you an inside, well technically outside, look at the city's colleges and their rivalries and friendships.
In the end, you can give your punter a tip, provided you enjoyed your little boat ride (although it is not expected).
There you have it, folks. Make it a day trip from London, or come and stay for a weekend in the town, but if you are looking for a laid-back, relaxing, gently swaying time in Cambridge, remember, sometimes it pays to take a punt.