Let's be honest; being on the road can be exhausting! The thrill of monument hopping and traversing cities can fade out soon if you aren't well-rested for your next adventure. This cooling-off period can be as simple as a good night's sleep. Choosing the right experiential stay, where you can relax, not just your body but also your soul, then becomes essential.
For a lot of people, picking accommodation during their travels is either dependent on a convenient location and/or affordability. Many consider it just a place to put their heads down, before heading for the next set of excursions.
In my travels, however, I have realized that selecting a worthy stay can enhance my experience by giving me an entirely new perspective on the destination. In fact, there have been times when I have tweaked my plans to accommodate a unique stay experience.
Here are 5 amazing experiential stays in India that promise an adventure like no other. At each one, I found not only a beautiful place to rest, but also heaps of personality, history, and culture, that, in the end, made these experiential stays in India bona fide destinations in their own rights, worth taking a detour.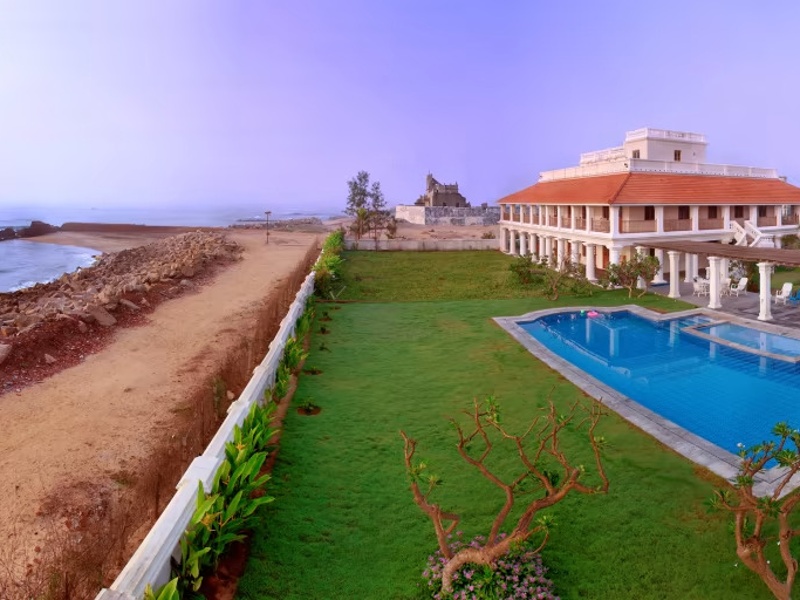 The Bungalow on the Beach, Tharangambadi (formerly Traquebar), Tamil Nadu
If there is one hotel brand known for its experiential stays in India, it is Neemrana.
Take this 18th-century grand stately mansion, located next to the waters of the Bay of Bengal; between the ruins of a 17th-century Danish Fort and a 14th-century Pandya Temple. Now imagine being able to stay in such a mansion!
A beautifully restored small hotel. The Bungalow on the Beach is a stately mansion that allures you with its location. The rooms, done up in soothing colors, come with all modern amenities, including Wi-Fi and AC, while maintaining the colonial architecture. The pool offers a pleasant respite from the heat and humidity in this corner of the world.
The breathtaking views of the sea, which is literally at your doorstep, however, take the cake. Waking up to the sun rising in the Bay of Bengal is an unparalleled experience worth treasuring. Coupled with a heritage town surrounding it, a stay at the Bungalow on the Beach is for lovers of history who are romantics at heart.
Pro-tip: Choose a room on the first floor for an unobstructed view of the sea and the fort.
Chera Rocks, Kannur, Kerala
Located in a quiet corner of Northern Kerala, Chera Rocks is a beachside getaway that is an ideal place to relax and watch beautiful sunsets. Dotted with coconut trees and hammocks tied between them, it oozes a rural charm with a touch of contemporary appeal.
A hidden gem of an experiential stay in India, Chera Rocks is peppered with traditional cottages built using laterite flooring and thatched roofs. The cabins are clean and spacious, though Wi-Fi and AC are notably absent, and for a good reason, as it encourages you to explore the surrounding areas. The food here consists of local Kerala specialties served in huge portions and with a warm smile.
Located about 30min from Kannur, a steep climb downhill is required to get to the stay. This is the only downside for those with limited mobility. They have porters who can help you with the luggage, but you do have to carry yourself up and down those steep stairs when required.
Pro-tip: Choose the standard rooms, which are closest to the beach and away from the main area.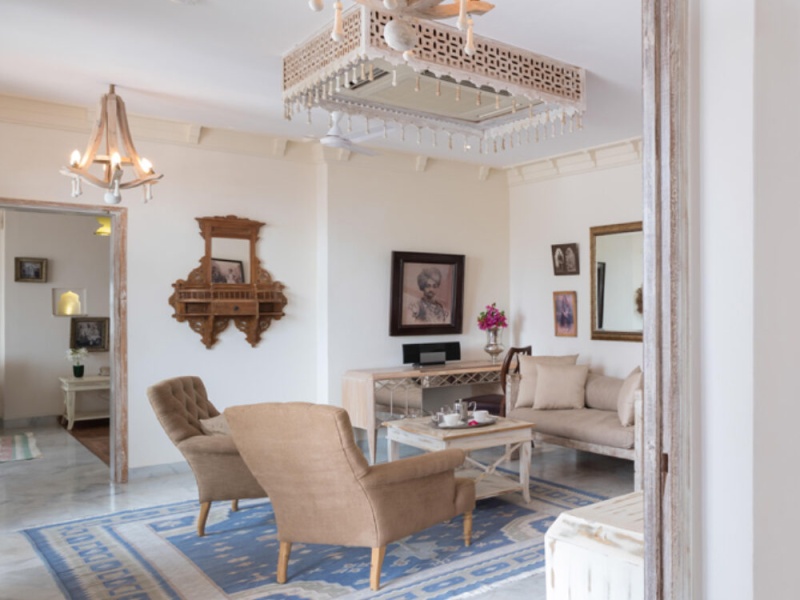 Rawla Narlai, Narlai, Rajasthan
Tucked away in the tiny village of Narlai in the Aravalli hills, close to the temples of Ranakpur, this restored 17th-century heritage stay was a former hunting manor of the Jodhpur Royals. Now, we mortals can hunt for blissful tranquillity amidst its colorful courtyards and secluded pool.
Located at a comfortable 2-hour drive from both Jodhpur and Udaipur, the erstwhile kingdoms of Marwar and Mewar, respectively, it is a perfect stop offering an oasis of calm after the frenzy of these touristic hotspots. It offers a unique peek into the countryside with leopard-spotting safaris, treks up a massive granite monolith, and romantic step-well dinners.
Each room in the heritage part is unique in its design and layout. Some with beautiful arches framing the beds or with original murals of royal processions exude subtle luxury. For those wanting more space and modern conveniences, the new wing offers this with equal splendor.
The food served is traditional, with mouth-watering local delicacies and both vegetarian and non-vegetarian options. The stepwell dinner is an exclusive experience for special occasions. A four-course meal was served beside hundreds of candles lighting up the site and accompanied by a local musician.
Pro-tip: Choose rooms in the Heritage section for an authentic taste of this heritage stay in Rajasthan.
Mantra Koodam, near Kumbakonam, Tamil Nadu
Styled like a traditional Tamil village, complete with minute details like a tea stall, temple, and pathways with local names, Mantra Koodam is an ode to the region's rich legacy. Located a short drive from the temple town of Kumbakonam, it effortlessly combines tradition and luxury.
The rooms (called Illams) with their Athangudi tiles, Burma teak doors, cozy sit-out, and open-to-air bathrooms offer a quirky yet warm setting. The pool, on the other hand, is a welcome relief during the hotter months.
For the artistically and culturally inclined, this is one of the best experiential stays in India and a great base to explore the temples of Kumbakonam and Darasuram; learn the art of bronze casting in Swamimalai, or visit the handlooms of Pattu Silk weavers near Kumbakonam.
You can, of course, choose to do nothing and simply soak in the sublime tranquillity of the region. After all, a little indulgence never hurts.
Pro-tip: Do not miss the evening/morning tea/coffee session. The snacks are lip-smacking.
Freddy's Bungalow, Bhimtal, Uttarakhand
A colonial legacy of a different kind awaits you at this homestead snuggled among a peaceful wooded hillside scattered with cypress and deodar trees. Located far away from the bustle of Nainital, this little charmer is a cozy 4-bedroom mountain retreat.
The original owner of the property, Fredrick Smetacek, had a special love for butterflies, and the current owners have preserved his collection at this home as a Butterfly Museum. It is a welcoming homestay that is a perfect setting for those chatty evenings by the fireplace or sunny winter afternoons curled up with your favorite book.
The local Kumaoni food adds just enough local flavors to give you a taste of the region. Whereas, the elegantly furnished rooms add to the colonial charm that has influenced the architecture of this Bungalow. The drive up via the dirt road is a little tiresome, but the quietude that follows more than makes up for it.
Pro-tip: If you are up for it, the hike from the stay down to Sattal is worth it.
These amazing homestays and boutique residences in India that you can call home, albeit for a few days, are in many ways unique experiences that stay with you long after the holidays are over.