A metropolitan seaport having an English, Scottish, Chinese, Italian, and Indian immigrant population, the food scene in the city displays a beautiful fusion of culinary techniques and flavors. Melbourne as a destination is equally vibrant and packed full of exciting excursions. However, further adding to the diversity of the local cuisine is the country's unusual flora and fauna, making it ripe for food innovations.
As a part of the aboriginal Kulin nation, local food often has rustic elements, as visible through delicacies mentioned in the Melbourne food guide. However, the preparations carry a cosmopolitan signature, seamlessly merging gastronomic traditionality with modernism.
Today, Melbourne food is much more than just flavors and textures. It uses locally sourced ingredients to create comforting, exotic recipes that leave diners wanting more.
Anzac Biscuits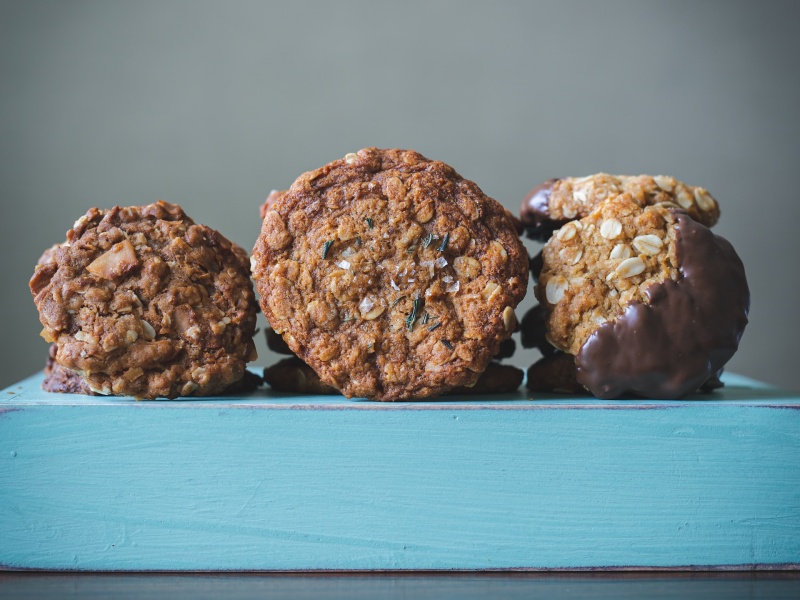 Anzac biscuits are a quick snack made with oats. They are soft, chewy, sweet, buttery, and warm.
ANZAC is the abbreviation of the Australia and New Zealand Army Corps. The biscuit was a staple for the soldiers serving in World War I. Since the ingredients did not spoil quickly, it was possible to transport the biscuits by sea from Australia all the way to Europe.
While every supermarket has several brands of Anzac biscuits, you can relish an upscale version at the "historic" Hotel Windsor. Their afternoon tea features this traditional Aussie biscuit with several types of teas and treats.
Cherry Ripe Chocolate Bar
Cherry Ripe Chocolate Bar is a local favorite consisting of cherries and coconut covered in dark chocolate. While the coconut provides texture, the predominant taste is that of the ripe cherries. Consequently, the chocolate bar has a soft structure and a distinct sweet and tart palatability.
The bar is a true-blue Melbourne invention created first by MacRobertson's Steam Confectionery Works in 1924. Often known as "Australia's first candy bar," Cadbury's manufactures it commercially now.
You will find Cherry Ripe sold only in Australia and New Zealand. It is thus an essential part of this Melbourne food guide. Also, they are available at every grocery store and gas station.
Gözleme
Melbourne is only now slowly starting to embrace street food culture. However, one dish that emerged as an exception early on is Gözleme, with its presence in dozens of food market lanes and railway stations. Made with unleavened flatbread, Gözleme is a form of Turkish sandwich that you can customize per your preference.
The golden, toasty outer crust is crispy to bite into, and the inner layer contains various ingredients like cheese, spinach, and ground meat. For Melbourne's rapidly growing vegan community, you can also find plant-based alternatives like mushrooms, spring onion, dill, and mint.
Gözleme King in Docklands gets a well-deserved mention in our Melbourne Food Guide. They serve plenty of fusion gourmet Gözleme versions. For a more authentic touch, stop by Anatolia Gözleme Kitchen in Prahran Market, where you can find a Turkish grandma making delectable pastries from scratch every morning.
Dim Sim
Not your classic dim sum, the "dimmy" is a Chinese-inspired Aussie snack. Typically filled with cabbage and pork, the dim sim is twice as large as an authentic dim sum.
The origin of the dim sim dates back to the sizeable influx of Chinese immigrants during the gold rush of the 1800s. During this time, siu mai dumplings gained popularity across the city. Soon, William Chen Wing Young created a thicker, easy-to-make version for faster production.
Now, the dim sim is not the beautifully pleated model that one finds in Asian countries. Instead, it is a ramshackle DIY version usually made with leftover vegetables. Although mostly fried, you can also find healthier steamed or barbeque versions of the dimmy.
A must-eat in Melbourne, you can find dim sim everywhere, from gas stations to fish and chip shops. Still, if you want the best, try the South Melbourne Market Dim Sims. Alternatively, try a variety of dumplings and exotic Chinese recipes at Secret Kitchen in Chinatown.
Donug
It might be hard to believe, but there's finally a donut for sugar-averse people in the market. Shaped in the form of a ring, it is a deep-fried chicken nugget that is crispy on the outside and tender on the inside.
Prepared explicitly with chicken breast mixed with a unique spice combination, donug has a coating of panko crumbs and cornflakes on top for a crunchy texture. You can enjoy it plain or with three different dips like hot chili sauce, cheesy Dijon bechamel, and mozzarella-enriched Japanese curry.
Brainstormed by Crag Carrick and Rachel Dutton to participate in a food festival, Donug is one of the latest culinary gifts from the city, making a quintessential addition to any Melbourne food guide. After launching the savory snack to Melburnians in 2018, the Glasgow-based couple also took the product to Shark Tank and secured funding of $100,000.
Donugs are available everywhere, from sporting grounds to fish-and-chip shops. Innovators also claim it to be 'the perfect hangover cure.
Fish Mackerel Dumplings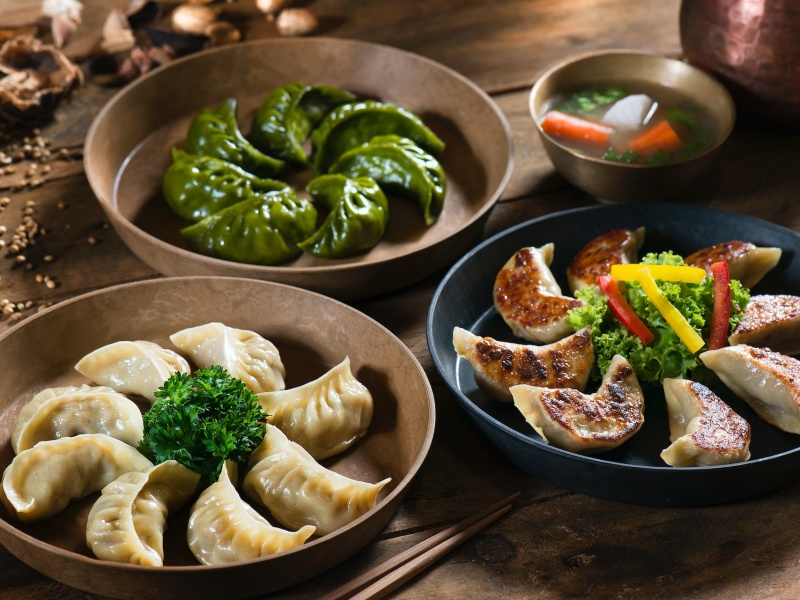 Imagine ordinary dumplings but with a soft and mousse-textured Mackerel fillet inside. The boiled homemade dumpling skin also includes spring onion, coriander, ginger, and chives for a distinct flavor.
Fish Mackerel Dumplings originate from the Chinese province of Shandong and gained popularity in Melbourne only after 2011.
When Ying Hou moved to Australia, her mother, Meyian Wang, followed, and began cooking her regional food. Soon there was much praise from Hou's friends, which ultimately paved the way for her restaurateur journey.
ShanDong MaMa in Bourke Street is where the magic happens, and you can try a variety of boiled and pan-fried dumplings. You can also try the famous Fish Mackerel Dumplings in their recent outlet in Centre Place.
Banh Mi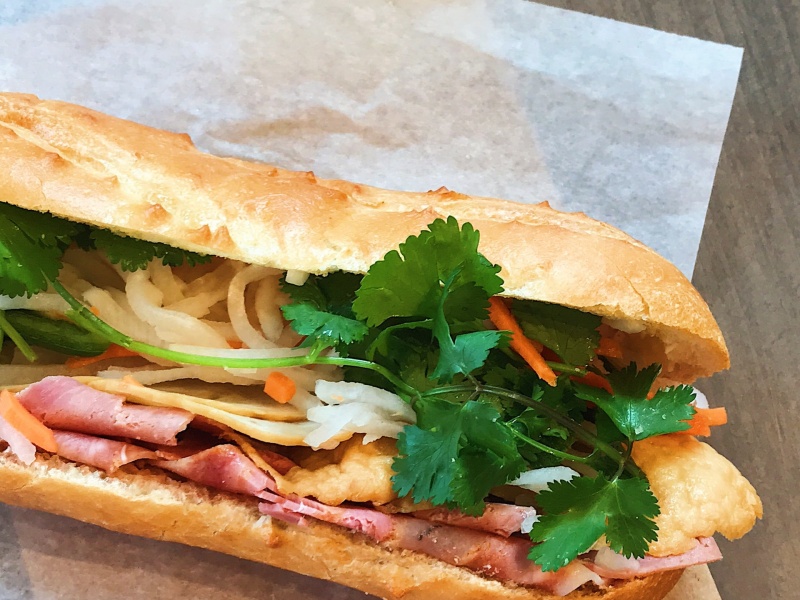 Essentially a part of Vietnamese street cuisine, Banh Mi is a baguette sandwich with a toasty outer crust that is airy and soft inside.
The bread surface has a layer of chili mayo and pâté with different ingredients like lemongrass pork, pickled carrots, cucumber, crispy shallots, cilantro, and daikon. You can find several versions of Banh Mi with crispy or grilled pork and even chicken.
The presence of Banh Mi in Melbourne links to the fact that thousands of Vietnamese refugees settled here after the war. As the number of Vietnamese bakeries grew, the sandwich became a popular lunch staple amongst Melburians.
A delectable Banh Mi is a must-eat in Melbourne, found predominantly in Vietnamese areas like Springvale and Footscray. A few good places to visit are Bun Bun Bakery and To's Bakery & Cafe. T&L Bakery Cafe in the Cremorne suburb is an excellent pick for a vegan Banh Mi.
Hot Jam Doughnut
Melbourne's food scene reflects its diverse population. However, one unique delicacy of Victoria's capital is Hot Jam Doughnuts. Unlike the model American doughnuts, 'Melbourner' does not have a ring shape. Instead, it looks like a squishy tennis ball, served in a white paper wrapping.
To make the doughnut, a mixture of sugar, flour, and yeast is left to rise. Once done, the dough balls are filled with red jam and then fried in sizzling oil. The piping hot snack then goes in for a sugar coating.
The history of Hot Jam Doughnuts traces back to the post-WWII days when people were still setting up food stalls. Currently, American Doughnut Kitchen in Queen Vic Market serves the doughnuts from the same van where they were first made more than 70 years ago.
Additionally, you can find the same goodness at Dandee Donuts, a shop established by ex-workers of American Doughnut Kitchen in the 1960s. Melbourne's love for the savory snack has also led to the annual organization of a two-day Doughnut festival in June.
Vegemite Curry
Vegemite is a spread made with brewer's yeast, vegetable stock, and spices. Its flavor is a bit salty with hints of malt. While it is undoubtedly an acquired taste for most non-Australians, vegemite tastes delightful in small doses.
Locals typically spread vegemite on bread. However, it is an excellent element that can enhance the complexity of the taste of different dishes. When added to a South East Asian curry, vegemite hits the palate with an umami taste, followed by the mildly spicy notes of the red curry.
A definitive part of any Melbourne food guide, vegemite curry is a local invention of Chef Khanh Nguyen from Sunda. Hidden under the "additions" section and paired with Malay-style buttermilk rotis, it is a bit of a hidden gem that first-time diners often don't know about.
Moreton Bay Bug Spaghetti
The Moreton Bay bug is a flathead lobster found in abundance in the ocean around Australia. The light on the stomach and not-too-oily lobster has firm flesh and characteristic sweetness.
The bug pairs well with citrus flavors and makes a beautiful addition to pasta with garlic and lemon. Chefs sometimes add tomatoes to the pasta, enhancing the acidic note of the recipe.
Moreton Bay bug spaghetti is a modern Australian twist on traditional seafood pasta and, thus, a must-eat in Melbourne.
When craving the bug, head to the Central Business District (CBD) for the best renditions of this pasta in the city. Il Bacaro, with its Morton Bay bug spaghettini, Tipo 00, and The Hardware Club, are the three most popular restaurants in Melbourne known for their Bay bug pasta.
Spag Bol
Spaghetti Bolognese is an Italian-Australian hybrid dish, essentially pasta with minced meat and tomato sauce. Inspired by Italy's Ragù Bolognese, the Aussie version uses ingredients like beef or veal, mushrooms, truffles, and local herbs.
Often considered one of Australia's national dishes, Spag Bol's presence in Melbourne ranges from high-end restaurants to small cafes. A few popular places to try out include Pellegrini's Espresso Bar in CBD, Brunetti in Carlton, and Rococo in St Kilda.
Piccolino Pizzeria in North Fitzroy gives a whole new meaning to the term 'Spag Bowl.' Here, you will receive Spaghetti Bolognese in a pizza dough bowl, woodfired in the oven after resting for 72 hours.
Bush Food
Bush food is a broad term for all native ingredients used by the original inhabitants of Australia. Also called bush tucker, typical elements include kangaroo, crocodile, and emu meat. Herbs and flowers such as lemon myrtle, lilly pilly, finger limes, and fruits like quandong are also characteristic of this cuisine.
As a result, no Melbourne food guide is complete without the inclusion of bushfood. Nowadays, native food like saltbush, gumbi gumbi, river mint, and more is readily available in pre-packed form from online and physical stores.
Gourmands wishing to experience the versatility of bush food in all its glory should reserve a table at Attica, arguably the best restaurant in Melbourne. Here you can savor kangaroo – lean and gamey meat, emu's egg, wallaby blood pikelets, and wattleseed bread.
Cruffin
Combine a croissant's buttery flakiness with a muffin's puffy lightness, and you'll get the cruffin. A Melbourne culinary innovation, a good cruffin is crisp on the outside but airy and soft once you bite into it.
The birthplace of the cruffin is the Lune Croissanterie. The bakery is famous worldwide for its sweet and savory croissants and cruffins. The classic version of the cruffin at Lune has a house-made lemon curd filling with lemon zest and citrus sugar.
Agathé Pâtisserie in South Melbourne is another excellent spot to satiate your cruffin cravings. They serve an extensive range of must-have sweet treats in Melbourne with fillings like tiramisu, Nutella, berry, and pistachio.
Pavlova
Pavlova is a round block of cake with a crisp meringue coating. The airy meringue-based dessert has a soft and creamy layer in the center, owing to the presence of vinegar and corn flour mixture in egg whites. It comes topped with whipped cream and fruit.
Named after a Russian ballerina, Anna Pavlova, the cake supposedly originated in the 1920s to help celebrate her tours Down Under. However, the exact origins remain unclear, with both nations claiming a stake in the same.
To taste Pavlova in Melbourne, you can head to Chokolait in Little Collins St, Naughty Boy Cafe in Princes Hill, and La Luna Bistro in Carlton North.
Cronnoli
Like Cruffin, Cronolli is another dessert offering the goodness of a croissant and a cannoli together. This yummy treat is a must-eat in Melbourne for those with a sweet tooth. It looks almost like any other Croissant but has a white icing sugar coating on top and pistachios on both ends.
The Cronnoli preparation process includes several steps, including filling tangy amore ricotta into a flaky butter croissant. The final result offers you the soft crunch of biting into the croissant shell and the creamy cheese texture of a cannoli.
Even though similar types of dessert are available at other places, this specific Cronnoli version comes from M&G Caiafa in Queen Vic Market. Here, you can order various flavored options, ranging from orange to Oreo.
What To Drink In Melbourne, Australia
When enjoying the delectables of the Melbourne food guide, it is only fitting that we mention at least a couple of regional drinks worth a taste. Here are two that have already achieved somewhat of an iconic status worldwide.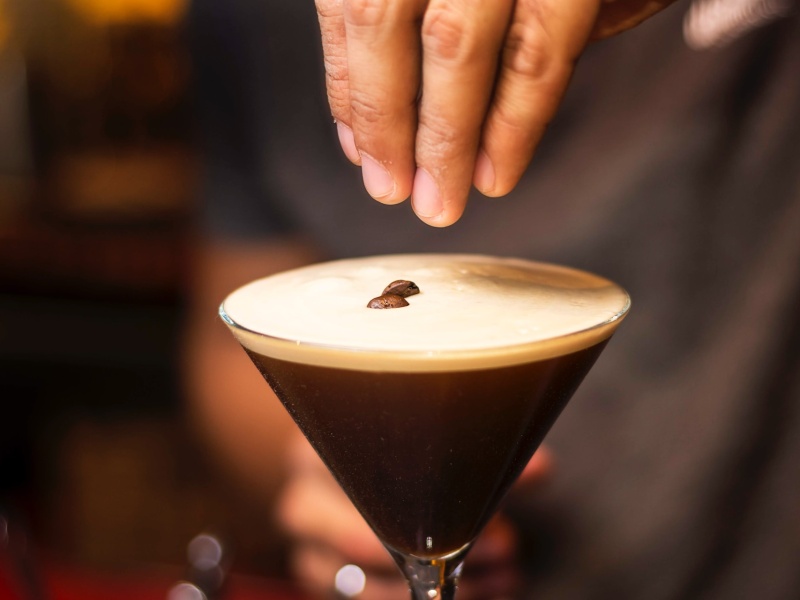 Espresso Martini
The espresso martini is a fun twist on the James Bond classic. It deserves a place on our Melbourne food guide for being the perfectly smooth after-meal coffee drink with a vodka kick.
Although a London invention, the espresso martini is a regular feature in Melbourne's top ten drinks lists. The combination of coffee, liqueur, and vodka doesn't seem like it should work, but it does.
Mr. Miyagi at Windsor is famous for its experimentations with the cocktail. Try the classic version here, or go for the cold drip with sake and white chocolate foam.
Om Nom at Adelphi Hotel has its own version of the drink called Salted Caramel Crackling Espresso. It comprises vanilla-infused vodka, salted caramel, and cold-pressed espresso. In the bar's classic theatrical style, it is frozen on the table.
Death Flip
Anyone looking at the ingredient list of Death Flip for the first time would definitely be a little spooked before trying it out. In reality, the cocktail offers a dash of sweetness and a boozy eggnog-like silky richness.
Served in a coupe glass, the alcoholic drink contains two parts Blanco Tequila, one part of Yellow Chartreuse and Jägermeister each, a whole egg, and sugar syrup. The resulting drink has a smooth, velvety texture, with a garnishing of grated nutmeg on top for a much-needed hint of spice.
Chris Hysted-Adams, a bartender at Black Pearl in Melbourne, first created the drink in 2010. Initially, the menu mentioned no ingredients and a warning 'You don't want to meet this cocktail in a dark alley.'
Apparently, the drink's name refers to a complicated skateboarding trick. Needless to say, it piqued the curiosity of many and went on to gain massive popularity.
To try out Death Flip, one can go to its place of origin, Victoria Fitzroy. Black Pearl also has a not-so-hidden bar upstairs, i.e., The Attic.