Mussoorie, known as the "Queen of Hills," is famous for its lush green landscapes, spectacular waterfalls, and panoramic views of the snow-clad Himalayas. But no holiday in the hills is complete without delicious food, which is why restaurants in Mussoorie have a die-hard following of their own.
Located in the foothills of the Garhwal region, Mussoorie first gained attention in 1823 and soon emerged as a social hub for privileged English families. Two centuries later, British architecture still lingers in the city, adding to the natural appeal of the hill station. Mussoorie, only 290 kilometers from Delhi, remains one of the most preferred hill stations in the country's North, attracting millions of travelers annually.
A vacation in Mussoorie promises much-needed relief from scorching summers while providing opportunities to indulge in an array of adventure sports. Of course, gastronomic experiences aren't far behind, enjoyed at any of the best places to eat in Mussoorie. However, should you ever want a slight change in scene, take a short drive further up and hop around some of the legendary places to eat in Landour.
Nostradamus – Writer's Bar
Address: Library Bazar, Gandhi Chowk, Mussoorie
Located inside The Savoy on Spring Road, Writer's Bar is an in-house dining facility open to residents as well as outside guests. As the nomenclature suggests, the bar is an ode to the city's literary heritage. It has a separate book section for guests and a unique wall with name plaques of famous writers like Jim Corbett, Ruskin Bond, and Lowell Thomas.
Writer's Bar is a premium establishment boasting English Gothic architecture. Combined with modern luxuries, the entire area exudes a distinct colonial-era ambiance. Decorated with three arched mirrors, Nostradamus has a dark wood counter with several stool chairs. The coffered wood ceiling and vintage chandeliers give the space a moody charm.
Guests can order a wide selection of international and domestic spirits here. To snack along, finger food and fast-food options are available. Some must-try items include moong dal halwa, kebab platter, and mutton rogan josh.
Cafe By the Way
Address: 1, South End House, Gajendra Building, Mall Road, Mussoorie
Tucked away in a tiny corner on Mall Road, By the Way, is one of the most buzzing places to eat in Mussoorie. Finding this place with potted plants and a narrow staircase might be a task, but the cozy atmosphere seems like a welcoming reward. The eatery maintains a distinct 90's vibe, thus attracting a youthful crowd.
Cafe By the Way highlights its vintage vibe with bright orange walls, multiple framed band posters, and handmade art pieces. The main counter has a rustic wooden log look, with old scooter seats instead of bar stools. The space does seem cluttered with memorabilia pieces like classic records, books, and old cameras, but that only adds to the cafe's retro element.
The menu has a limited, yet highly recommended, selection of beverages, snacks, and freshly baked desserts. Best-selling items include chili cheese toast, double Oreo shake, sour cherry cake, and pepperoni pizza. Guests can also try herb-infused teas, like ginger & tulsi, Himalayan nettle, and chamomile.
While the food arrives, you can play various table games, like Jenga and Uno.
Wisteria Deck
Address: JW Marriott Mussoorie, Village – Siya, Kempty Fall Road, Mussoorie
Situated near Kempty Falls, Wisteria Deck is one of the best restaurants in Mussoorie, located on the top floor of JW Marriott. This luxurious establishment serves Mediterranean cuisine, innovatively infused with a dash of locally sourced ingredients.
Set in an open courtyard, Wisteria Deck boasts a contemporary look with a scenic backdrop of the Himalayas. The terrace has a green foliage ceiling and a stone fireplace in one corner. The alfresco restaurant has low-rise gray stone texture walls, thus allowing the earthy colors of the background to pop.
Here, guests can order and customize a range of dishes like pasta, wood-fired pizza, and appetizers. One must-eat is the ravioli or fettuccine pasta with Wisteria sauce, which contains Himalayan garlic, local chilies, and olive oil. Vegan options include Himalayan red rice bowls with chickpeas, bean tofu, and seasonal greens. Tiramisu with regional ​​rhododendron flower preserve is a delightful way to end your meal.
Chick Chocolate
Address: F 34H & 4FP, Mall Road, Mussoorie
Operating for approximately 75 years, Chick Chocolate is one of the oldest restaurants in Mussoorie. Over time, the Mall Road-based eatery has become a go-to spot for homemade chocolates and confectionary goods. Here, tourists often stop by to pick gastronomic souvenirs like sticky jaw toffees made from caramel.
Chick Chocolate is a restaurant-cum-cafe running in a compact space with only a few square tables available. As such, it can get overly crowded during peak hours.
Yellow-hued walls covered with classic Hollywood posters make the interiors seem more welcoming. Apart from that, one can find the day's specials on a blackboard by the cash counter.
The menu includes an array of foodie delights, snacks, and desserts, ranging from chicken nuggets to dark chocolate shots. Some popular items are jelly-topped fruit cream, wood-fired thin-crust pizza, and waffles. Diners can order an authentic European breakfast with baked beans, eggs, and pancakes.
Mom's Kitchen
Address: Hotel Vikas, Near Dominos, Mall Road, Mussoorie
As the name suggests, Mom's Kitchen is one of those places to eat in Mussoorie, where guests can relish homemade food. Tucked away on Mall Road in a tiny shop, the eatery is an ideal spot for anyone craving comfort culinary delights.
However, there is no indoor or outdoor seating available.
Mom's Kitchen has a simple menu, including Indian dishes like rajma rice, kadhi pakora, and dal rice, served hot with a side of green chutney and onions.
Additionally, guests savor street snacks like vada pav, bread pakora, Maggi, and macaroni. Soup, lassi, coffee, and lemon tea are available beverage options.
Kalsang Friends Corner
Address: Survey Colony, Mall Road, Mussoorie
Kalsang, a famous Asian chain, opened its doors in 1998 and is presently considered one of the must-visit restaurants in Mussoorie. Located on Mall Road, the establishment serves Chinese, Tibetan, Thai, and Korean delicacies. The two-floor restaurant has classic Buddhist-style interiors and a laid-back aura.
Stepping into Kalsang Friends Corner is a thoroughly immersive experience, with bright red walls and Tibetan prayer flags everywhere. Small black and white curtains separate the tables from the walking area, offering more privacy to diners. The basement has multiple Chinese lanterns, creating a dimly lit vibe.
The menu is over ten pages long and includes several Asian dishes like steamed momos, thukpa, mokthuk, and transparent ping thang noodles. For appetisers, you can order snacks like french fries, crispy potato chili, and spring rolls.
Another thing to note is that Kalsang's menu is quite budget-friendly, and serving portions are large in comparison. Also, it's quite close to Cambridge Book Depot, the bookshop famous for hosting author Ruskin Bond once a week.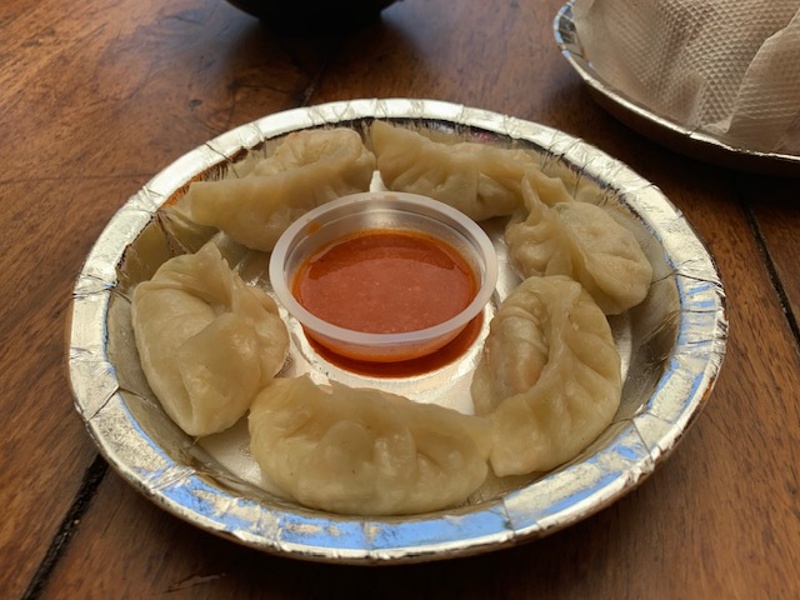 Trout House Grill & Bar
Address: JW Marriott Mussoorie, Village – Siya, Kempty Fall Road, Mussoorie
Located on Kempty Falls Road, Trout House Grill & Bar is one of the top restaurants in Mussoorie. A part of the JW Marriott hotel, the place serves Indian cuisine with a European twist.
The restaurant offers excellent views of the Northern Garhwal range that you can relish from its terrace seating area with beige Chesterfield sofas. The inner dining space is equally elegant, with minimalistic decor and an inviting environment. Decked in multiple brown hues, the bar comprises overhead basket lights and a subtle semblance of British architecture.
Fresh from the grill, the Himalayan trout experience includes several options like maccha pakoda, tandoori macchli, and trout en-papillote. Cooked in whole wheat dough casserole with local ingredients, atta trout is the restaurant's signature dish, available only on special orders.
Vegetarian options include Himalayan tofu tikka, vegetable kebab platter, and subz akhrot ki tikki. For desserts, guests can try regional delicacies like jhangore ki kheer (made with milk pudding and local barnyard millet) and akhrot halwa.
The Tavern Restaurant
Address: Kulri, Survey Colony, Mall Road, Mussoorie
The Tavern is among the top live music-offering restaurants in Mussoorie. Right opposite Picture Palace on Mall Road, the restaurant-cum-bar serves Indian, Chinese, and Continental food.
The Tavern exudes a typical British-Asian diner charm and is strikingly similar to a bygone-era English pub. With earthy tones and wooden column ceilings, the dining area has a distinctly laid-back atmosphere.
Most evenings, one can find a singer strumming along old classics in a corner beside the bar.
Often frequented by locals, the establishment is now almost four decades old. Above the restaurant, one can also access a pool and billiards room.
When it comes to the menu, The Tavern has a vast range of tandoori appetizers and non-vegetarian main course dishes. Popular items include tender roast lamb, thin-crust pizza, red wine sizzlers, and Thai curry.
Lovely Omelette Centre
Address: The Mall Road, Kulri Market, Mussoorie
What once was an egg shop in 1918 is presently one of the top places to eat in Mussoorie. Located on Mall Road, Lovely Omelette Centre is like any other streetside shop with a couple of cooking counters. There isn't any seating space inside, and customers mostly line up waiting to receive their orders.
Equally popular amongst tourists and locals, the eatery serves different omelets with cheese, butter, veggies, and even chocolate. The friendly proprietor allows patrons to customize their order by selecting ingredients.
Served on paper plates, omelets come with a side of tomato ketchup and make for a good street snack paired with a cup of pahadi chai.
The Ansari family's father-son duo runs the shop and receives plenty of media attention. On weekends, owners prioritize student customers and offer free treats for any kid unable to afford the food.
Before visiting, remember that you might have to wait 30-45 minutes to get your dose of eggy goodness. Also, the shop stays closed on Tuesdays.
Cafe De Tavern
Address: Ground Floor, Near Random, Mall Road, Mussoorie
Located below The Tavern Restaurant, Cafe De Tavern is a quaint bistro serving popular European recipes and fast food. With big French windows and a massive stone facade, one can easily spot the eatery walking down Mall Road. Furthermore, intricate wood designs help maintain the restaurant's rustic appearance.
The inner space is equally warm and has all wood decor, from block ceilings to entire furniture. On the side, you can spot a live kitchen counter and watch the preparation process for drinks or wood-fired pizzas.
At Cafe De Tavern, guests can order all-day breakfast combos, including dishes like pancakes, waffles, omelettes, and bun maska. For a healthy alternative, one may also try Woodstock salad (with crunchy lettuce, cheese, and croutons) or Kandi Valley salad (with exotic vegetables and vinaigrette dressing).
An interesting thing to note is that owners have named most menu options after famous landmarks in Mussoorie.
Cafe Hinge
Address: Kurli Chowk, Near Picture Palace, Mall Road, Mussoorie
Cafe Hinge is among the few authentic European cafes in Mussoorie that welcome pets and humans with equal enthusiasm. Here, guests can expect a wide range of Italian, Mexican, American, and Continental dishes prepared by chefs trained in 5-star establishments.
Cafe Hinge has a turquoise exterior, large windows, and a quiet, relaxing demeanor. The dining area comes with minimalistic decor designed in light contemporary shades. However, the visually appealing food plating balances any absence of bright colors on walls.
Among the best places to eat in Mussoorie, it serves an all-day American breakfast, including options like egg or veggie platter, which includes a hot beverage and sides of baked beans and potato wedges.
Otherwise, opt for the spaghetti Bolognese, chicken burrito, or risotto. Iced teas, coolers, shakes, and smoothies stand out on the beverage menu.
Urban Turban
Address: Opposite Canara Bank, 1st Floor, Kulri, Mall Road, Mussoorie
Right opposite Canara Bank on Mall Road lies a bistro ideal for people wanting to enjoy Pan India and Mughlai cuisines.
As one of the more eclectic restaurants in Mussoorie, UT boasts a vibrant look, with multiple colors and quirky art adorning the walls. The interiors are a balanced mixture of classic Punjabi and modern funky decor. The dining hall has a hipster distressed look with plenty of decorative knick-knacks acting as conversation starters.
The menu at Urban Turban includes a wide range of appetizers, with top recommended items being baghdadi chicken, paneer chatpata, Afghani soya chaap, and Peshawari seekh.
For the main course, go with the kadhai mushroom, navratan pulao, and mutton nihari with raita and masala papad. And while you wait for the food, enjoy the creative menu card with a separate section for Punjabi comics.