About 7 kilometers from Mussoorie lies a cantonment area known as Landour. Established initially by British forces as a resting sanctuary, Landour is a sleepy town with little to do.
However, tourists often come here to enjoy the scenic valley views, stroll through the dense woods, and unplug from their fast-paced city lives. To make the experience more extraordinary and convenient, Landour also houses plenty of local cafes and eateries.
Moreover, the best places to eat in Landour have a charming mountainous appeal. Run by locals, they've become an integral part of Landour and the primary reason why many tourists staying in Mussoorie visit this hamlet.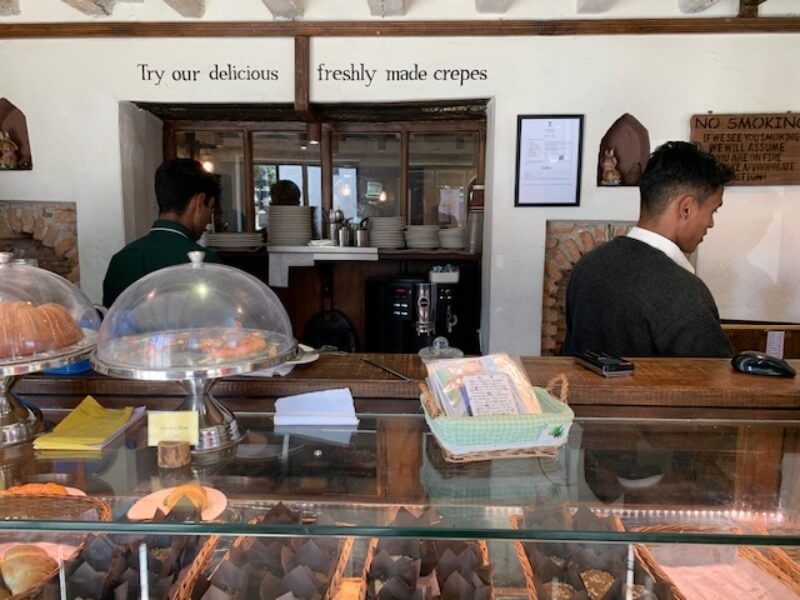 Landour Bakehouse
Inspired by Victorian-era bakeries, Landour Bakehouse is one of the main attractions of Sister's Bazaar (Landour's local market). Its classic charm and prime location make it among the best places to eat in Landour. The bakery is ideal for guests looking to enjoy a British breakfast with some serene valley views.
Derived from the famous 'Landour Cookbook,' the menu includes sandwiches, garlic croissants, Nutella chocolate crepes, scones, chocolate croissants, and my favorite, the junglee chicken toastie. As per locals, the cookbook shares several recipes suitable to Landour's climatic conditions.
Owned and operated by the Rokeby Manor, Landour Bakehouse is a quaint spot with a brick wall decor, wooden flooring, an exposed ceiling, and a small book cabinet. Visitors can also decide to take some baked goods back home. However, one sweet treat of theirs not to miss is stick jaws – toffees with butter and caramelized sugar.
Doma's Inn
Doma's Inn is a suitable spot for tourists willing to experience authentic Tibetan decor and food. Among the best restaurants in Landour, the entire place exudes a traditional Asian household vibe with vibrant colors and accessories.
Adorned with multiple movie posters, the restaurant's warmly lit hanging lights create a pleasant atmosphere. Mandalas created by Thangka painters from Nepal further add character to the gallery space.
Here, guests can order dishes like momos, noodles, chop suey, or sizzlers. When it comes to momos, plenty of vegetarian and non-vegetarian options are available, like Tiabo momos, filled with cheese, mixed meat, and boiled eggs.
Shyaphaley and Thupka are two traditional Tibetan dishes. You can add herbs and meat of your choice with the Tibetan bread and noodles, respectively. Travelers craving Indian food can order paranthas, but only during breakfast hours.
Cafe Ivy
Since its inception in 2015, Cafe Ivy has been the "cool" hangout spot for the youth visiting Landour. Known for its ambiance, views, and multicultural cuisines, the cafe is run by three friends wanting to be near the mountains. The place starts serving at 10 AM and shuts down by 8 PM.
Most restaurants in Landour shut down by 8:00 PM and are thus unideal for late dinner plans. You can possibly enjoy a late homecooked snack if you are staying in one of the local guesthouses.
Cafe Ivy is the right amalgamation of minimalism and rustic decor. Its interior highlights include a fireplace and various vintage elements like a rotary phone and a trumpet. At Cafe Ivy, you can sit inside or on the terrace. The latter is always in demand. Undoubtedly, evening hours get the most rush as diners experience the winter line phenomenon, i.e., the false illusion of horizon during sunset.
When it comes to food, Cafe Ivy serves Italian, American, and Indian dishes. Some popular items are pepperoni pizza, bruschetta, garlic bread, and Aglio Olio pasta.
Prakash Store
Serving customers since 1928, Prakash & Co is a general store in Sister's Bazaar. Initially, it was a shop selling various items like antimalarial drugs, rucksacks, furniture, and electrical generators.
However, the proprietor decided to sell homemade food products made using the recipes the British and Americans taught around 1955-56.
Consequently, the store is famous for its organic fruit jams, chutneys, peanut butter, and cheese.
Fruits and dairy products come straight from the nearby villages. Some popular choices include apricot jam, plum tomato chutney, gooseberry jam, and gouda cheese.
Most eateries or cafes in Landour, like Cafe Ivy or Rokeby Manor, also source their condiments from Prakash & Co.
In addition to the artisanal produce, guests can find modern and traditional grocery store items. Present on multiple shelves, all food products are easy to spot even in the tiny shop.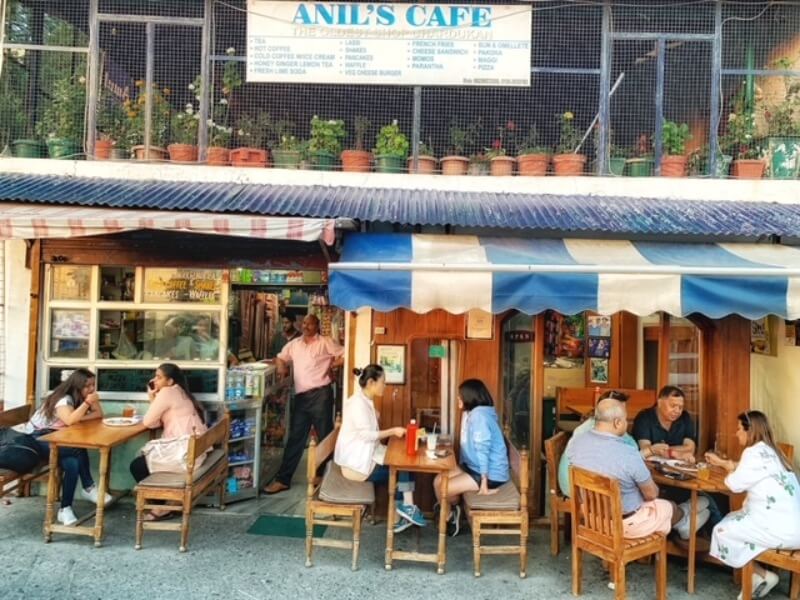 Chaar Dukan
Adjacent to St. Paul Church is a cluster of 4 small shops. Established over a century ago, Char Dukan predominantly served the purpose of providing coffee and snacks. Although it now includes 5 or 6 shops, the spot is still famous as Chaar Dukan and has the most frequented restaurants in Landour.
Most of the shops here are almost identical. Still, guests can look around and check for the different meal options. Mentioned below are the four original shops that are currently run by 5th-generation owners.
Anil's Cafe
One of the first shops of Chaar Dukan in Landour, Anil's Cafe still garners a lot of popularity owing to its small-town eatery charm. Some standard items on the menu include pakoras, bread omelets, banana pancakes, and cheeseburgers.
Tip Top Tea Shop
Tip Top Tea Shop is one of my favorite places to eat in Landour. If you are looking for someone to talk to, know the history of Landour, or strike a normal conversation, this is the place to be. The friendly proprietor ensures that all guests feel welcome and answer any queries. Tip Top is an excellent place for an afternoon meal of Maggi, Wai-Wai (wet or dry), burgers, and shakes.
Chaar Dukan Cafe
Char Dukan Cafe works well for tourists looking to grab breakfast on the go or have a heartwarming cup of ginger lemon tea with a sandwich in the morning. The ginger lemon tea is a local specialty, and you'll find it at almost all places to eat in Landour. Moreover, at the cafe, you can order various breakfast items like masala tea, milk coffee, paranthas, or a classic bun omelet. Do remember that the bun typically used is on the sweeter side and oh-so-soft.
Himgiri Cafe
Himgiri Cafe is a go-to option for travelers looking to have Chinese cuisines like momos or fried rice. Also, one can order multiple types of soup like tomato, hot and sour, or veg sweet corn. Another point to remember is that guests only get a couple of outdoor seating tables at all the Chaar Dukan eateries. So visit early in the evening if you want that much-desired spot.
Lal Tibba Binocular Cafe
Tourists seeking a 360° valley view should beeline for Lal Tibba Binocular Cafe. It's a nice, relatively flat walk from Chaar Dukan. You can take your vehicle, but it's best to avoid it if possible.
Situated on the top of a cliff, the place offers unobstructed views of Himalayan peaks like Badrinath, Kedarnath, Nilkantha, Swargarohini, or Banderpooch. Surrounded by dense Deodar trees, the path to reach the cafe is quite scenic.
Reaching the cafe, after a leisurely stroll through the green mountains with almost hidden sign-posts, guests must order something from the menu to access the roof and the Japanese telescope fixed in 1967. Food options at one of the most popular restaurants in Landour include Maggi, pasta, burger, nuggets, or french fries. Patrons can also relish a hot cup of coffee or tea as per their liking.
Lal Tibba Binocular Cafe has indoor space on the ground floor and terrace seating on the first floor and the roof. The place looks like a standard cafeteria with benches for furniture and wall graffiti.
Hills-E-Ishq Cafe
Located near the Jabarkhet Nature Reserve, Hills-E-Ishq cafe is a small family-style restaurant serving simple home-cooked Indian meals and Chinese cuisine.
If wanting something local, try the authentic Garhwali Thali, which comes with regional dishes like nettle kebabs, made from bichu buti or nettle leaf plant. Usually served with bhang chutney, the kebabs taste like spinach, only with a peppery zing. The thali also has panchayat dal, red rice, cucumber raita, chapatis made from millet flour, and millet kheer as dessert. The staff here is friendly and happy to explain all dishes, their ingredients, and regional importance.
Hills-E-Ishq is a simplistic place serving as a resting point for the Jabarkhet trek. Well segregated to include the kitchen corner and wooden tables, the hall space also consists of a swing for kids to sit on.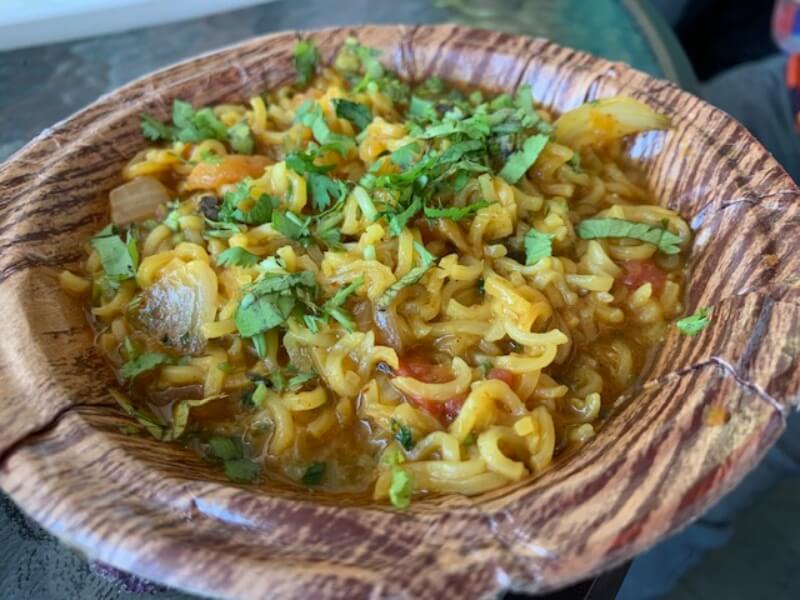 The Mudcup Cafe
Decked in turquoise walls with wooden ceilings, the Mudcup Cafe is one of the top rest spots for tourists walking from Mussoorie to Landour. The outer structure of the building seems deserted, but that's no reason to worry. The cozy interior with quirky wall paintings makes all guests feel welcome.
The cafe offers alfresco and indoor seating, with comfortable sofas and chairs for a relaxing experience. Furthermore, the staff ensures satisfactory table service and helps guests with any food queries.
Listed on a blackboard inside the main hall, the cafe's vast food options consist of pizza, pasta, biscuits, muffins, and other comfort bites. The restaurant has several beverage options, like ice cream shakes, coffee, and milkshakes.
Manisha's House
Manisha's House is suitable for tourists wanting a more traditional home-cooked culinary affair. Manisha runs an all-you-can-eat establishment out of her home's living room, providing guests with fresh meals cooked with less oil and spices.
Her meal plan costs Rs. 150 and includes Indian cuisine options like two veg curries, salad, rice, and chapatis. Manisha changes the menu every day, using only tasteful seasonal vegetables. For interested learners, she also provides basic cooking lessons.
One should, however, note that Manisha's House doesn't accept walk-ins. Guests can head to Tip Top Tea Stall at Chaar Dukan and ask the shop owner about her home's whereabouts.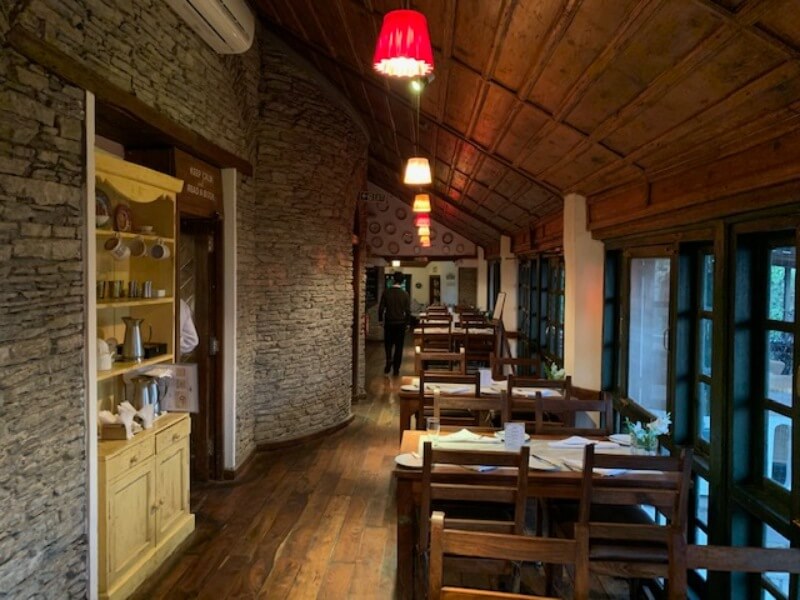 Emily's
An ode to colonial architecture, Emily's is a restaurant in Landour's well-known establishment, Rokeby Manor. However, it is open to outsiders and serves Indian and Continental cuisine. Guests can also stop by the restaurant for a classic British tea or dining experience.
The entire space oozes a countryside aura with wooden flooring, ceiling, and furniture. Lined by French doors, the tables get plenty of natural light for a warm and welcoming demeanor. Visitors may even opt for a rooftop setting and eat with the view of snow-capped peaks in the distance.
Breakfast starts as early as 6:30 AM on weekdays and has several options like pancakes, waffles, or French toast. Additionally, you can order the Rokeby breakfast, including hash brown, grilled tomatoes, eggs with toast, tea, or coffee. For patrons preferring healthy options, the restaurant provides oatmeal, cornflakes, muesli, and freshly sliced fruits.
Devdar Woods Cafe
Devdar Woods Cafe is part of a classic imperial-era property with spacey dining halls and high wooden ceilings. The place is open for guests staying overnight and walk-ins.
Renovated into a hotel, the place looks like another old British bungalow from the outside. However, it is large enough to contain four deluxe rooms and two suites with elegant yet subtle decor. Surrounded by Devdar trees, the cafe is amidst a scenic spot offering panoramic Himalayan views.
One of the quaintest places to eat in Landour, it is primarily known for wood-fired pizzas from an old German oven, Devdar Woods Cafe serves other dishes like mashed potatoes, pasta, or lasagna. You can also order beverages like masala chai, coffee, fresh lime, and aerated drinks. There's seating available inside, but if the weather is nice, opt to sit outside on the lawn, surrounded by greenery on all sides.