A little-known fact I got to know about Einstein while travelling in Switzerland was that he and Charlie Chaplin were friends. It's not the type of information one comes across randomly, and in my case, my curiosity peaked when Einstein's wax figure popped up at Chaplin's World in Corsier-sur-Vevey.
I have spoken about Chaplin's World previously, so let's focus a little on Einstein instead. As is the case with many greats, he spent seven years living in Switzerland, two of which (1903-1905) were in a second-floor apartment in the Old Town of Bern. He stayed here with his wife and son, and it is during this particular stay that he developed his theory of relativity.
Old Town, Bern is as charming as old towns in big cities can get. There's a subtle juxtaposition of the past and the present as modern-day shops and restaurants situated inside age-old buildings line up along the ancient cobblestoned lanes where electric trams run every few minutes.
We stumbled upon Einstein's apartment by chance. One minute I was trying to convince my son that a second ice-cream within half an hour was not something that is allowed even if we are "on holiday", and the next moment, we were standing in front of a small apartment block with Einstein-Haus lettered in red on the wall. In the window there stood a picture of the genius, holding a book, which seemed a little tacky, but then we all have our unique ways of marketing and advertising.
I wasn't particularly interested in visiting the apartment. Albert Einstein stayed here for two years, and if we start converting every house that every celebrity ever lived in, it would just be absurd. Still, my daughter and I made our way up the steps to take a quick look. That our friend, who was also our guide for the day, decided to stay back should have been a sign.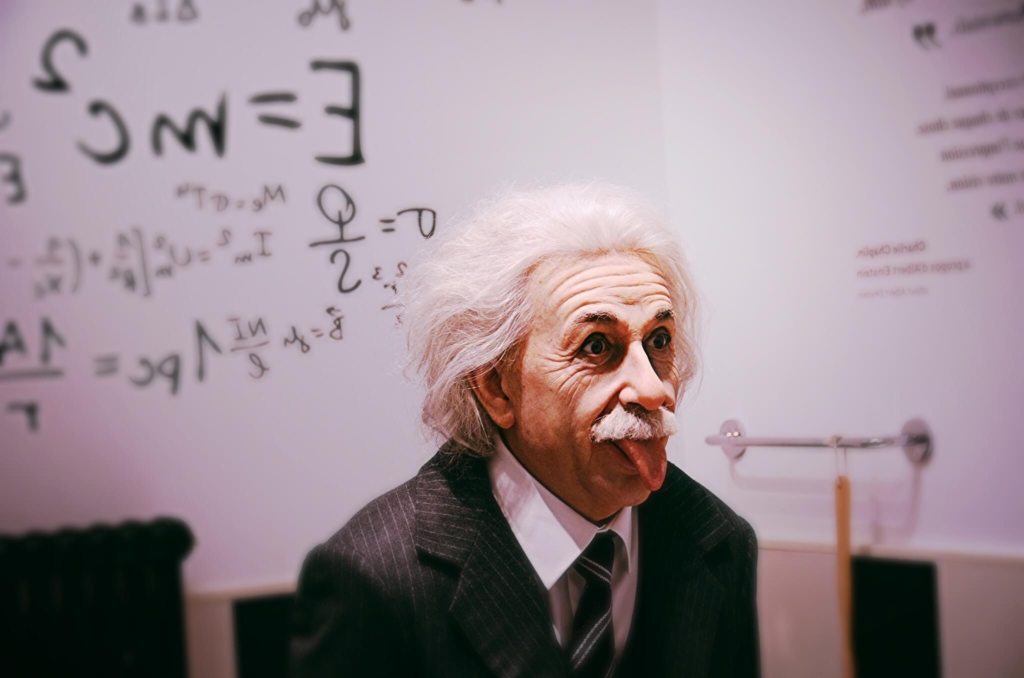 Once at the reception, it was unfortunate to find out that the Museum Pass we received with our Swiss Train Pass did not cover Einsteinhaus (there is, however, a discount on the entrance ticket). Not too enthusiastic about the flat in the first place, we decided to give it a miss.
But before leaving, we did take a glance, and the apartment, though spacious, seemed to have some Einstein paraphernalia and old furniture which was a glimpse into how life was back then. Whether the furniture actually belonged to or was used by Einstein is not specified.
On the ground floor of the building is Einstein – Kaffee and Rauchsalon. I'm not sure if the food here will charge up your brain cells, but it's always a pleasure to take a break from wandering around and enjoy the many delicacies of Switzerland. What I found interesting was the "rauchsalon" part which Google Translate now tells me means "smoking salon." While one does come across the odd smoking section in a restaurant, to have it as part of the signboard is something unusual.
Do I regret the decision of not visiting Einsteinhaus? Not really. It's not like I'm on a path of a scientific breakthrough that I'll get inspiration from being in a space that more than a century ago hosted one of the most brilliant minds known to humankind. I can't even get my head around SEO for my blog posts or the changing algorithm of Instagram, so anything to do with matter and space and e and mc hammer is way out of my league.
Still, Einstein is iconic and maybe spending a little time in Einsteinhuas would have helped me learn more about the Genius. I guess that leaves me with something to do for next time.
Einsteinhaus, Kramgasse 49, 3011 Bern, Switzerland
Timings: 10:00 am to 5:00 pm
Tickets: Adults – CHF 6,- / Youth – 3, –
Website: https://www.einstein-bern.ch/