There's a lot more to Switzerland than just natural beauty. Lakes, snow-capped mountains, winding rivers, and scenic train journeys have long enchanted visitors to the country.
But it is the distinctiveness of the food and drinks available, that further highlight the uniqueness of Switzerland, making it one of the most popular and preferred destinations in the world.
The worldwide food revolution that has happened over the last decade is responsible for turning almost every traveller into an amateur foodie. As a result, there is a growing demand for food-tours and food events wherever one travels.
Food has become a matter of national pride and identity with many attractions centred around eating and drinking that showcase local products. These events are often used by tourism boards to provide visitors with a taste and an experience that is both adventurous and memorable.
Switzerland has long been producing world-class cuisine with local ingredients. The pride that the locals have in their products is evident from the fact that Switzerland also consumes a tremendous amount of what they produce.
During my summer in Switzerland, it was amazing to see fresh and natural products everywhere I looked. On the one hand, the conversion of ingredients into tasty and mouth-watering concoctions was astounding, but it was the simplicity with which the raw materials were often used that caught my fancy.
While there is a lot more to experience, my short time in Switzerland led me to appreciate, eat and drink in abundance some of its must-have culinary offerings;
Gruyère Cheese
A visit to the Gruyere cheese factory is a lot more educational than activity-based. But visiting the charming village with fantastic views, a castle, cobbled roads, and pretty buildings is a must.
Gruyère cheese, on top of all the charm of the region, is simply delicious. Perfect for nibbling, it pairs wonderfully with Swiss wine, and can be added to a salad, or to layer up your sandwich. The cheese from this famous region is exceptionally versatile and available in three "ages" of 4, 8, and 10 months; the latter being a favourite with my family because of its high saltiness.
Rösti
Shredded potatoes, pan-fried into a "disc" – almost like a flying saucer – crowned with additions like cheese, bacon, veggies, meats, and then finally topped with a nice fried egg (runny yolk of course).
Available in both vegetarian and non-vegetarian options, Rösti might sound plain but promises robust flavours and multiple textures hidden in its subtle appearance.
Rösti is hugely filling and provides you with a warm and wholesome meal. It is best enjoyed slowly on a lazy evening by the lake, or as was in my case, surrounded by the thundering sound of waterfalls in Lauterbrunnen.
Fondue
The most popular food in Switzerland, I like to call it FUNdue. You can go the chocolate fondue way, but when in Switzerland, you have got try cheese fondue.
Most restaurants have a minimum two-person requirement when ordering Fondue. Once again, you can easily find a vegetarian or a non-vegetarian option of the same – the latter has a lot more dipping possibilities.
There's something generically exciting and yummy about dipping food in melted cheese, and it's no surprise that Switzerland and fondue are synonymous around the world.
A word of caution, though, you might want to avoid plain cold water or drinks up to around 2 hours after eating fondue. Bubbly drinks (cold) or warm drinks are advisable as it allows the cheese to digest better and stops it from solidifying quickly.
Raclette
Who doesn't like gooey melted cheese?
Wait! What? You don't?
Well then, I don't know and/or like you anymore. Kapeesh!
For the other "normal" human beings, those who enjoy cheese in its beautifully melted form, Raclette is a Swiss must.
Half a wheel of cheese under a grill, a plate ready with boiled baby potatoes, pickled gherkins, maybe some meats, and then the drama of the wheel arriving at the table and the melting, gooey, yummy cheese being scraped off it and onto your plate.
It's beautiful and what food-heaven is all about.
Sausage
Germans might have a monopoly when it comes to sausages, and their bratwursts are famous the world over, but don't let that deter you from trying a Swiss Sausage. Veal is one of the most common and favoured ingredients, but other options are often available.
The Swiss are generous with their helpings, as one sausage along with a side order of fries was more than enough to keep me full for half a day. A lovely glass of Swiss Pinot Noir complemented the sausage beautifully.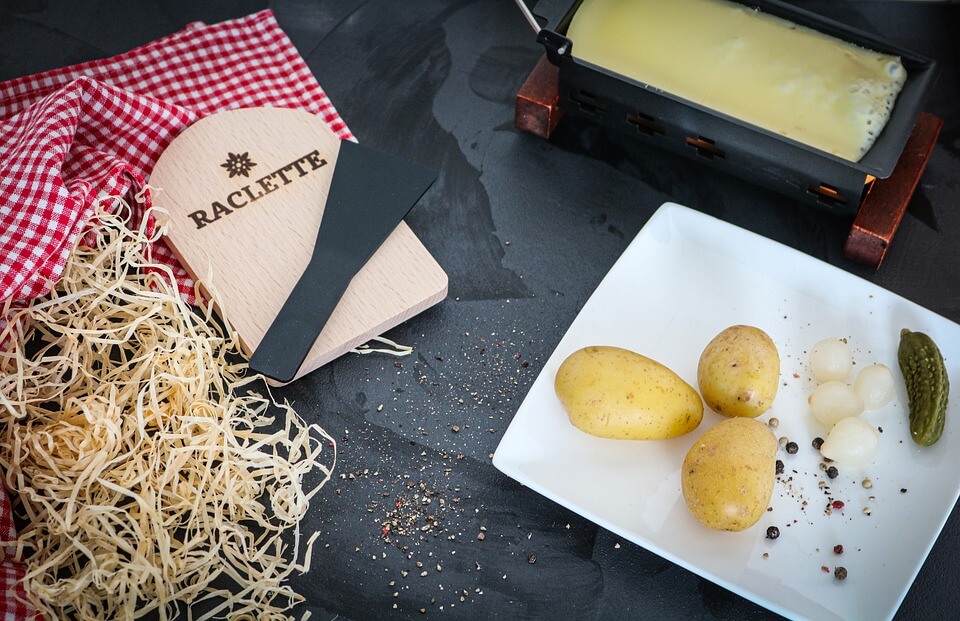 Cailler Chocolates
The Swiss are known for their chocolates. Well, guess what, not only are they responsible for some of the best chocolates, they consume the most chocolates in the world as well. Available in various flavours and percentages of cocoa, chocolates from the regional favourite, Cailler, caters to everyone. Be it someone like me who has a super sweet tooth – I have a few cavities to prove that – or one who likes a little bitterness in their chocolate. Don't be surprised if you find tourists packing bars and boxes of Cailler at their factory, department stores, or the airport; Switzerland is where you'll get the best deal on them and the most choice as well.
Snacks from the Farmer's Market
Most villages/towns have farmer's markets every week, some even twice a week. Whether you plan on cooking food yourself during your vacation or not, this is the place to buy and/or taste the best local products.
From a dazzling variety of mushrooms to bright red tomatoes and lovely radishes to delicacies made with cheese, a farmer's market is often the epicentre of all local activities on these days and the best way to understand and appreciate the local community for any traveller. We picked up fresh vegetables, bread, and a few cheesy snacks when attending the farmer's market in Vevey, and loved every bit of what we saw and ate.
Swiss Wine
The most underrated wine if ever there was any. While smaller countries the world over are promoting their wines like crazy, Switzerland has a very humble approach to selling wine. Many regions produce just enough for local consumption, and others don't have the type of budget like that of the neighbouring counties (France, Italy, and Germany). Missing out on Swiss wine, especially when in Switzerland, is the worst mistake you will ever make.
Rivella
A non-alcoholic drink made with whey and sometimes even called the "national drink of Switzerland", Rivella has people divided. While some, like me, absolutely love it, others swear by only a particular flavour – Red is apparently the most popular. Red, Blue, Green or Rhubarb, when in Switzerland you have to give Rivella a go, and only then make up your mind about this flavorful drink.
Crêpes
Call it a French influence, but when in the Swiss-French region alongside Lac Léman, you have got to get your craving for crêpes fulfilled. And yes, they are most likely available with your favourite filling (cheese, chocolate, ham being some of the most popular ones).
BONUS (13 doesn't have the same ring to it as 10)
Perch
A fish mainly found in Lac Leman (Lake Geneva), you will discover perch in its many avatars served in most lakeside restaurants. Perch fillets are a speciality, and the flavour of the fish cooked in butter will leave your taste buds tingling for more.
Meringues
Made with egg white and sugar, many Swiss nationals love to make meringues at home. However, this famous dessert with a crunchy and sweet disposition is popularly found in cafes across the country. Everyone has a particular way of eating meringues, but they mainly go well with Gruyeres creme and fruits like mango and strawberries.
Water
Last, but not the least, drink a lot of water from all the magnificent and artistic fountains across Switzerland.
Why? You ask.
Because it's fresh, crisp, and best of all, it's FREE!
Switzerland, owing to its proximity to five different countries, has quite a lot to offer regarding food and drinks. Depending on where you are in the state, the menu changes almost dramatically, and that's part of the fun of travelling in such a diverse region.
However, some of the classics like fondue and raclette are available across all of Switzerland with minor differences.
My choices above are based primarily on what I tasted and enjoyed in the Swiss-French region, as that is where I spent most of my vacation.
A trip to the Italian or German neighbouring areas is likely to bring even more recommendations as I have been reading about them and already craving some of their specialities.
I also would point out that although I missed out on trying soup when in Switzerland, it comes highly recommended. The Swiss make soup, especially roasted Basler flour soup, with many ingredients and almost always to perfection. Soup is easily found across the nation and preferred during the colder months.
As it is with travelling anywhere in the world, make sure you talk to the residents and discover local products.
Food and drink can help you understand life a lot better and in turn, appreciate the people and country in a completely different way.
Furthermore, if budget is not an issue, Switzerland also comes loaded with some Michelin starred restaurants that celebrate local produce and are sure to perk up any food lover's holiday.
Now GO! Be a little adventurous; Eat and drink local.