From the exotic blend of traditional and contemporary settings to its multicultural fabric, Bangkok is a dreamy destination for travelers. The city's position as an international culinary hotspot further adds to its myriad culture. Therefore, a trip to Bangkok is never complete without experiencing its ambrosial must-eat dishes that have helped make its cuisine so famous.
Bangkok's food is a mix of several influences from India to China, and even Persia. While the city's cuisine relies heavily on meat and seafood, it also has exciting options for vegans. As a result, restaurants in Bangkok are some of the most reputable fine-dining institutions in the world. At the same time, the city's street food is equally fascinating, having earned several Michelin stars.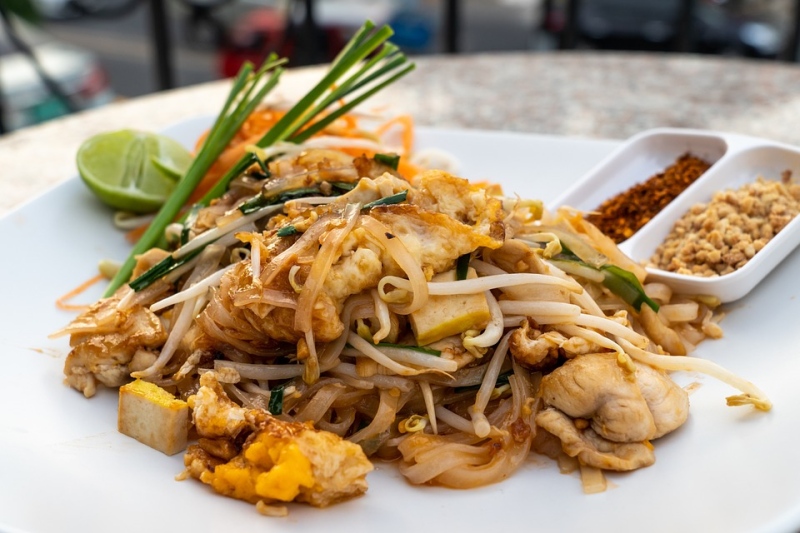 Phat Thai (Thai Stir-Fried Noodles)
Pad Thai or Phat Thai is a stir-fried rice noodles dish that, arguably, is the "queen of Bangkok cuisine." This exotic preparation consists of rice noodles along with a mix of ingredients, including tofu, palm sugar, shrimp, and eggs.
Pad Thai is an ingredient-intensive recipe and can have multiple variables. Therefore, restaurants throughout the city often add their own unique twists to the presentation. No matter where you try it, Pad Thai remains one of the essential must-eat dishes in Bangkok.
Winner of the Michelin Bib Gourmand award, Baan Phadthai is among the oldest and most popular Pad Thai restaurants in Bangkok. The fine dining restaurant, located at North Sathon Road, is themed after Thailand's UNESCO world heritage site, Ayutthaya. It is the perfect place to savor the country's golden history and cuisine together.
Pumpkin Hummus
Invented by renowned chef May Kaidee, Pumpkin Hummus is a much-liked vegan dish in Bangkok.
Having a paste-like consistency, it comprises sesame seeds, cashew nuts, soya chunks, and coriander. Surprisingly, locals pair pumpkin hummus with tea as it compliments its flavors.
May Kaidee Tanao is the best place to enjoy this vegetarian creation. The eatery is one of the few vegetarian-only restaurants in Bangkok.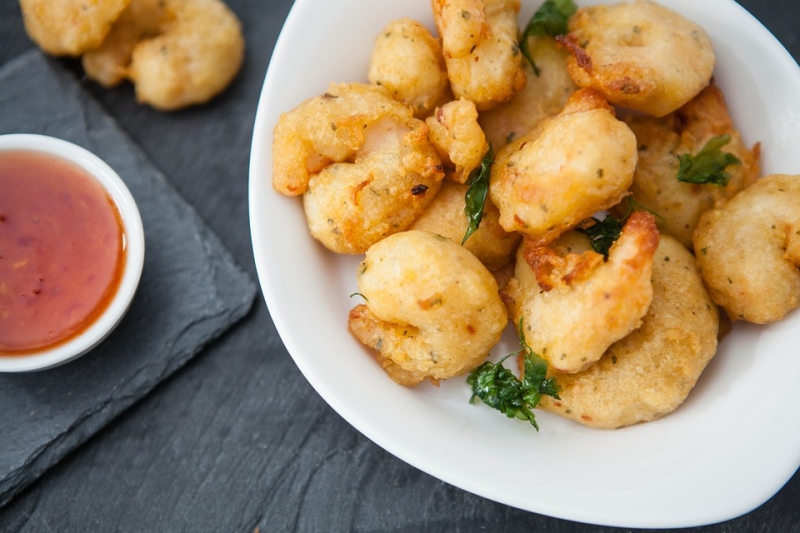 Goong Pad Kratiem
A shell-on shrimp dish with a peppery accent and a hint of coriander, Goong Pad Kratiem is a Bangkok street specialty.
Prepared by mixing prawns with crispy garlic, black peppercorn, oyster, and soy sauce, Goong Pad Kratiem is a crunchy and succulent delicacy.
A full-fledged meal, Nhong Rim Klong, is the best place to try this must-have dish in Bangkok. Situated at Watthana, the eatery is a Michelin-starred canal-side stall that enjoys massive popularity among locals and visitors. Try to get an early lunch/dinner here and avoid the rush hour.
Crab Omelette
The Michelin Guide describes street food icon and Michelin star chef, Jay Fai's Crab Omelette, as "simply unparalleled." If that doesn't make it one of the must-eat dishes in Bangkok, nothing else will.
Known as Kai Jeaw Poo in Thai, the delicacy is a simple yet crispy mix of steamed crab knuckles, eggs, and secret spices.
The omelette is Jay Fai's specialty and is exclusively available at her street-side restaurant, Raan Jay Fai, located at the famed Maha Chai Road.
Due to Jay Fai's massive popularity, don't forget to reserve a table at this much-loved restaurant in Bangkok to avoid disappointment.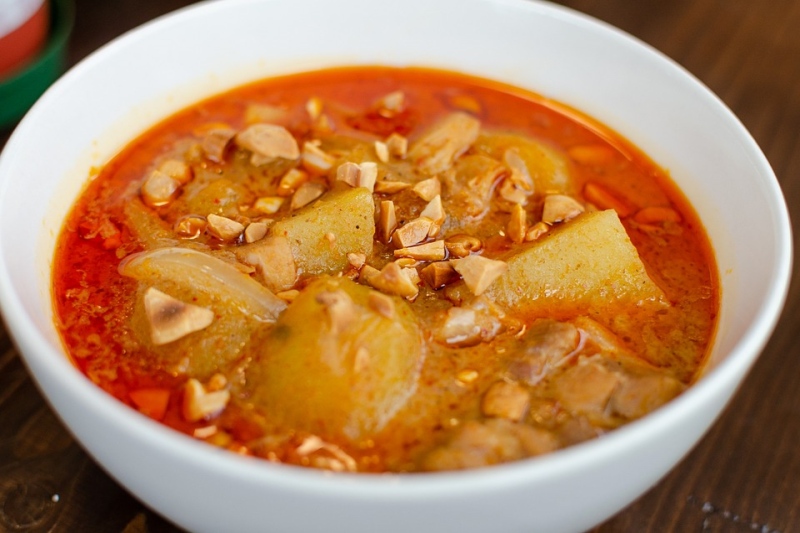 Massaman Curry
A mix of Indian, Persian, and Thai cuisines, the Massaman Curry has quite an impressive culinary heritage. The dish is said to have arrived in Thailand via Persian merchants in the 17th century.
The delicacy has over twenty unique ingredients, including meat, chili, cardamom, cumin, cloves, tomato, coconut milk, and cinnamon.
It's possible to make Massaman Curry using a variety of meats, from beef and duck to goat or pork (though this version is less popular).
The traditional style high-end Blue Elephant Restaurant serves one of the best Massaman in the city.
Khao Mun Gai
Khao Mun Gai is one of the must-eat dishes in Bangkok, with its origins going back to Southern China's Hainan region. The recipe is a simple mix of steamed rice, chicken, and a robust broth.
The dish arrives on the table with fresh cucumber slices and a dipping sauce. The sauce adds to the flavor and is a mix of Thai chili, garlic, ginger, vinegar, and Tao Jiew (Thai-style fermented soybean paste).
Watsana Khao Mun Gai, Michelin's Bib Gourmand award winner, is an excellent place to taste Khao Mun Gai. The street food eatery is located on Phuttha Bucha Road and stays relatively busy.
Shrimp Dumplings
Chinatown is another jewel in the city's epicurean crown. The neighborhood is home to the Chinese diaspora and houses some of the best Thai-Chinese restaurants in Bangkok.
Shrimp dumplings are a famous snack with their origins in Chinatown. Unlike the traditional recipe, locals don't steam the dumplings but boil them.
The dumplings are made by stuffing minced pork in a whole shrimp and covering it with a refined dough. The dish has a tender and chewy texture.
Din Tae Fung, the global Taiwanese restaurant's Bangkok branch, is a fantastic place to try the dish in a fine dining setup. For street experience, Jok Kitchen in Chinatown is the place to go.
Khao Kha Mu
A treat based primarily on rice and pork, Khao Kha Mu is a universal favorite. A part of the Teochew cuisine, the dish has a mixed Chinese and Thai heritage.
Khao Kha Mu isn't very spicy and has a salty-sweet flavor, which makes it popular among kids. Pork legs and steamed rice are the essential components.
However, the dish gets its taste from Thai sauces and spices like oyster sauce, dark soy sauce, rock sugar, shiitake mushrooms, and peppercorns.
Khao Kha Moo comes with boiled eggs and a range of pickles. You can find the dish at any street food stall on Chareon Krung road.
Khanom Bueang
Also known as Thai Crepes, Khanom Bueng is a quintessential Bangkok dessert inspired by Indian cuisine. However, you can find similar preparations across Southeast Asian cuisines.
These crepes have a crunchy texture with fillings like sweet egg floss, shredded coconuts, fried egg strips, and finely chopped scallions.
Receiving a Bib Gourmand mention in the Michelin guide, Khanom Bueang Wan Phueng Noi at Chok Chai 4 serves only this single dish. As a result, there is no other restaurant in Bangkok to visit when you want to taste the best Khanom Bueang.