Singapore is one of the most cosmopolitan states in the world. Compact in size, its multiculturalism is visible around every nook and corner of the city, irrespective of where you decide to stay in Singapore. Thus, one of the best ways to appreciate and immerse yourself in Singapore's diversity is through its gastronomic offerings. From street food to fine dining, hawker stalls and restaurants in Singapore serve a myriad of cuisines from across the globe. However, the city is not without its fair share of culinary specialities with a distinctly regional taste. Consequently, the must-eat dishes in Singapore are flavorful preparations featuring classic elements that showcase the city's old-world-meets-modern persona.
Bah Kut Teh
Pocket-friendly, robust, and bowl-deep in Hokkien heritage, bah kut teh is an intensely rich dish everyone must try in Singapore. Translating to meat bone tea, the recipe of bah kut teh first came to the Lion City along with Hokkien immigrants.
The authentic version of meat bone tea consists of pork ribs simmered in a broth seasoned with star anise, garlic, cinnamon, and dang gui – a Chinese medicinal herb.
Nowadays, chefs add mushrooms and tofu to give the preparation more volume and an individual taste. It's pertinent to note that the dish does not have any tea in it. Instead, the name comes from the broth's tea-like color and fragrance.
In Singapore, you'll find two styles of bah kut teh. The Teochew version has a light-colored broth and is more peppery than the Hokkien soup, which typically has dark soy sauce.
Gourmands wishing to enjoy the best meat bone tea in Singapore should plan a visit to Song Fa on New Bridge Road. Their Teochew-style soup is simply delightful. Alternatively, you can try Leong Kee on Geylang Road, famous for its Malaysian Klang-style preparation.
Orh Luak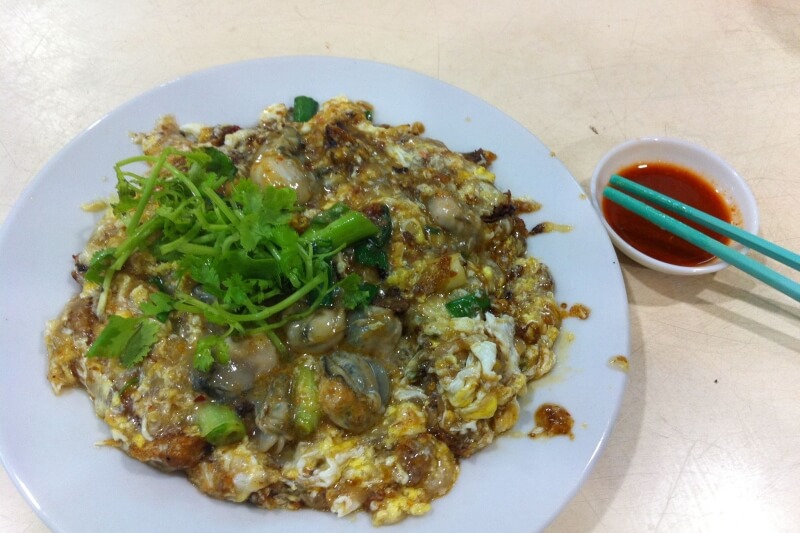 A rundown of the must-eat dishes in Singapore includes several preparations you will find across South East Asia. However, slight ingredient variations and cooking techniques make each version unique and worth trying.
Oyster Omelette (orh luak) is one such dish. Originating in China's Fujian province, it is now a familiar comfort food in Malaysia, Taiwan, and Thailand. Singaporean oyster omelet doesn't take on the traditional look of the dish. It's a little busy on the plate, oily, heavier, but nonetheless sinfully delicious.
Made by frying potato starch, egg batter, and oysters, the dish can be chewy or crispy, depending on the quantity of individual ingredients. Some hawker stalls add fresh oysters on top just before serving the omelet. Classically, Singaporean orh luak comes with chili sauce and lime.
To enjoy Singapore's complete variety of oyster omelets, you must visit a few different hawker stalls. Lim's Fried Oyster in Berseh Food Center serves a tasty starch-filled omelet. At the same time, Song Kee Fried Oyster plates the crispier version of the dish. Michelin mentioned both as the top "late-night spots in Singapore for that orh luak craving." 
Chili Crab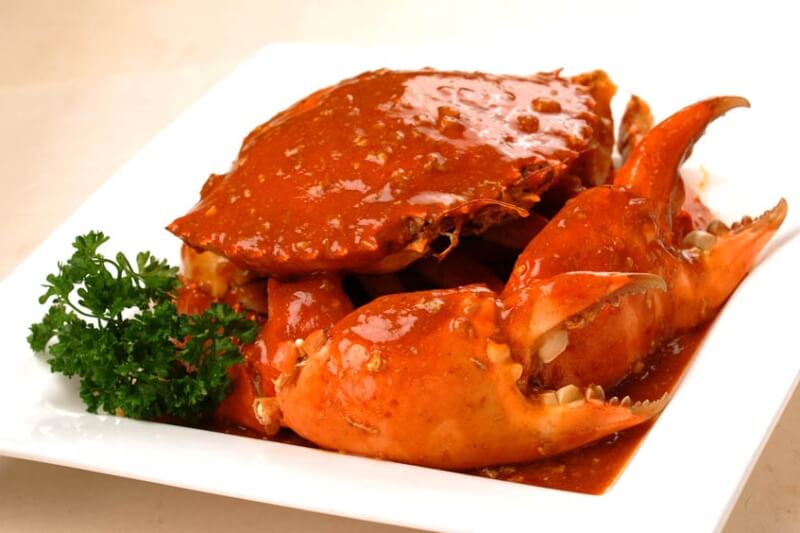 Chilli Crab originated in the 1950s and is among the quintessential must-eat dishes in Singapore. Somewhat messy to eat yet a lot of fun, chili crab is a hot favorite with locals, especially when eating out with friends and family.
The recipe for a classic chili crab comprises a hard-shell crab cooked in a richly seasoned tomato gravy with egg. Served with the shell pre-smashed, it goes best with bread, primarily used to soak up the sauce.
Surprisingly, chili crab is not too hot or spicy, contrary to its name. Instead, it has a sweet, tangy flavor that never fails to delight the palate.
Although you'll find chili crab across Singapore, having it at the iconic Roland is a must. Famous as the "creator of chili crab," the restaurant owner's mother, Cher Yam Tian, first came up with the dish's recipe. A large old-world restaurant that can accommodate over 1000 diners, Roland also serves delectable handmade prawn rolls, fried baby squid, and black sauce prawns.
Fish Head Curry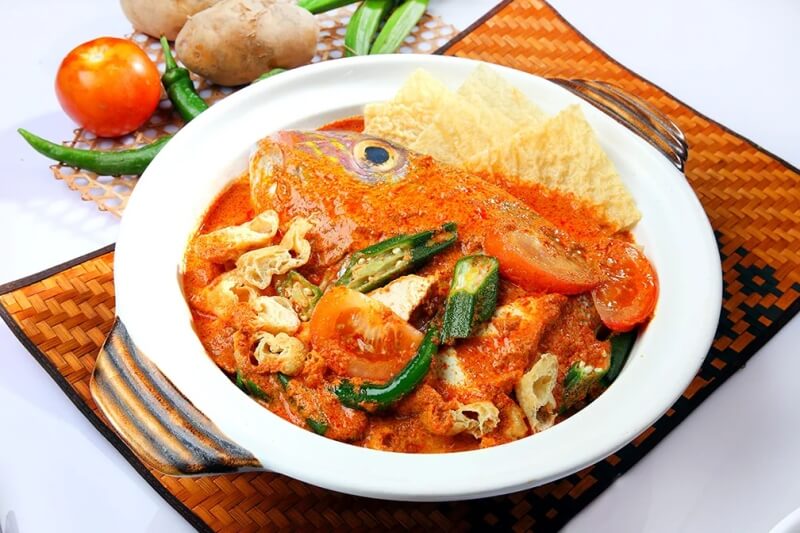 One sees the perfect amalgamation of South Indian and Chinese cultures and cuisines in a Singaporean fish head curry. This simple dish consists of fish and vegetables cooked in a delicious curry, served with rice or bread. Red snapper is the most common fish used in the preparation, although it often changes depending on what's freshly available.
Interestingly, the origin of the dish dates back to 1949. At the time, Mr. Gomez was running a popular restaurant on Sophia Road. His recipe for the traditional South Indian fish curry soon became a hit. However, when his customer base shifted to primarily Chinese locals, he started adding a fish head into the curry.
A must-eat for seafood lovers visiting Singapore, one of the best places to try this specialty is Na Na Curry. The restaurant slow-cooks the broth for over 15 hours, giving it intense depth and taste. Na Na Curry was a Michelin Bib Gourmand prize winner from 2016 to 2020.
Cendol
Considered one of the top favourite desserts in the world, cendol is not only popular but a sweet treat that defines Singapore. It is a fusion of simple elements that shouldn't work together but do in the most tasteful way possible.
Crushed ice mixed with coconut milk and gula melaka (palm sugar) forms the base of a Singaporean cendol. Added on top is a generous helping of green rice flour jelly. Some places also add red kidney beans, durian paste, or pandan to give the dish a hint of vanilla-like flavor.
A refreshing dessert perfect for battling the hot and humid weather of Singapore, cendol is typically part of most restaurant menus. However, among the places famous mainly for their cendol is the Four Seasons. The hawker stall shapes the crushed ice into a ball, giving it a distinct and much-loved character.
Other places to try the aromatically enticing cendol in Singapore are Old Amoy Cendol in Chinatown Food Center, The Coconut Club located at Ann Siang Hill, and Cendol Geylang Serai for an Indonesian version of the dish.
Singaporean Ice Cream Sandwich
A combination of nostalgia, simplicity, and comforting taste makes an ice cream sandwich among the must-eat dishes in Singapore. Readily available through several mobile street vendors on Orchard Road, the refreshingly sweet and savory sandwich is the perfect culinary respite during a day full of sightseeing and shopping.
So, what exactly is a Singaporean ice cream sandwich? Well, it's a block of ice cream crammed between a piece of folded bread. The choice of bread alters between soft white or slightly sweet rainbow bread. Otherwise, you can replace the bun with wafers, adding a crunchy texture to this delightful dessert.
The ice cream flavors range from regional favorites such as durian and mocha to classics like strawberry and chocolate.