Situated a stone's throw away from the Mussoorie, Landour is a quiet cantonment village offering breathtaking views of the Doon Valley and Himalayan peaks. With a recent increase in places to stay in Landour, the area has slowly become a preferred destination, especially for visitors wanting to avoid the bustle of downtown Mussoorie.
Named after a village in southwest Wales, British forces used this scenic hillock as a sojourn during Indian summers. It still serves the same purpose, allowing travelers to enjoy serene forest walks and mesmerizing sunsets. Moreover, the small-town vibe of Landour enables you to disconnect from city life and rejuvenate the mind in the lap of nature. No wonder it is now home to many authors and celebrities such as Ruskin Bond and Stephen Alter.
Due to Landour being a cantonment, there are limitations to constructing new properties in the area. While there are hotels in Landour, most places to stay are family-run villas and Airbnbs.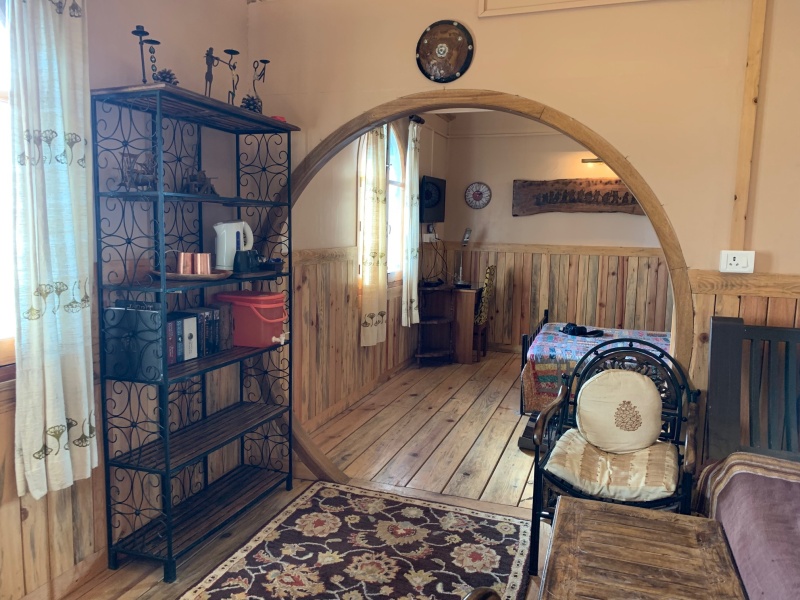 La Villa Bethany
Redefining the colonial era experience, La Villa Bethany is the only self-sufficient property in Landour. From harvesting rainwater up to 80,000 liters to encouraging usage of local produce from farms, the establishment actively reinforces the positive impact on nature and supports the local community.
Set up in a renovated English cottage, La Villa Bethany is an award-winning homestay offering six well-designed bedrooms, including a couple of log cabins, deluxe rooms, and suites. Even though the area seems contemporarily designed in warm colors, there's a subtle hint of countryside architecture to make the whole place warmer and more welcoming.
Visitors looking for something a little novel should book their Hobbiton room. Inspired by the Lord of the Rings, it can easily accommodate a small family of four.
Additionally, guests can spend time in Mackinnon's Study, Falconer's Lounge, Capt. Young's Dining Room and other common outdoor areas.
La Villa Bethany is one of the pet-friendly hotels in Landour and is also home to a couple of dogs. Do remember that access to the property requires going down a steep slope, which you must climb every time you wish to leave. However, they have a golf cart to help you go up or down when needed.
Doma's Inn
Heavily influenced by Tibetan culture, Doma's Inn is one of the few budget places to stay in Landour. Decked in hues of red and orange with plenty of Asian art pieces, it's an inviting and vibrant space relatable to Asian households and culture.
When it comes to accommodation, guests can book standard or deluxe rooms. Remember, only the deluxe rooms offer a scenic Doon Valley view from the window. Interiors are Doma's Inn coddle you with their simplicity, shifting the focus to the outside while providing necessary comfort. At the same time, the common area entices movie enthusiasts with plenty of posters and dialogues on the walls.
Doma's journey began in 2010 when the former owners decided to sell the property. It was a golden opportunity for Tsering, who wanted to offer people an authentic experience and support the Landour community.
Currently, the quaint inn hires locals and also introduces visitors to Tibetan dishes like momos, thupkas, shyaphaley, and many more through its on-site restaurants.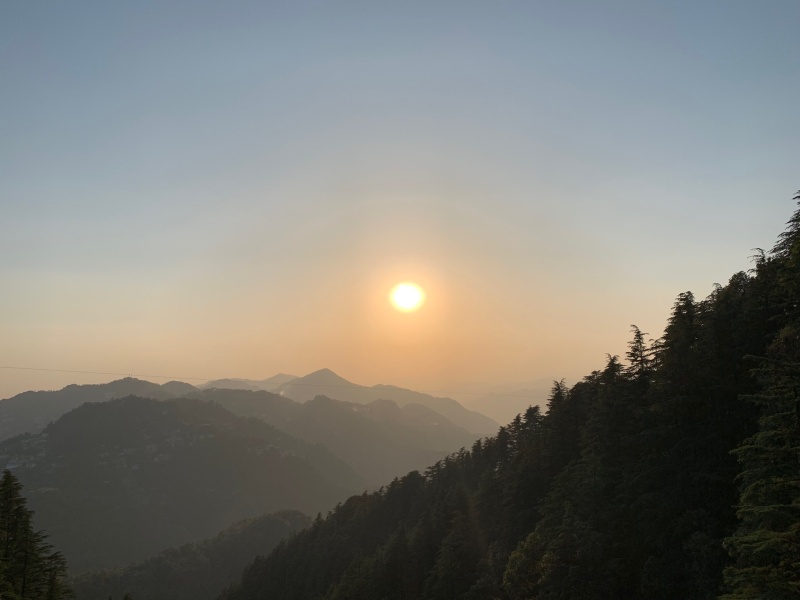 The Tattva
The Tattva is one of the best places to stay in Landour, serving guests with quality accommodation and scenic views of the mighty Himalayas. Its location is slightly unconventional, under Cafe de Landour, but places you in the heart of all the activity in the hemlock. In case you are wondering, Cafe de Landour was previously known as Cafe Ivy and is right next to the famous Char Dukaan.
The rooms at Tattva, named after the main elements of nature, are well-furnished and include coffee or tea makers, a segregated workspace, a mini-bar, a television, and other amenities. There is a conference hall and free Wi-Fi for people on work vacations.
The accommodation exudes a rustic charm with its exposed brick walls, beached ceilings, wooden floors, and cottage-like decor and furniture, creating a cozy atmosphere.
Tattva offers sweeping views of Deodar forests and the Doon Valley, thus making it an ideal spot for rooftop relaxing sessions. Guests can sign up for yoga or pebbles therapy for a more laid-back and mindful travel experience.
Fern Villa
Fern Villa is a local Airbnb offering an experiential vacation to guests planning a trip to Landour. Edwin and his daughter Sarahna run the place together and can accommodate three people in their guest house.
The establishment fits the bill perfectly for people looking for privacy and all basic amenities like a functional kitchen, a washer, a dryer, or a Wi-Fi connection. However, the hosts can arrange for meals, a bonfire, or a barbecue if you wish.
The entrance for the abode is separate from the main house, thus giving guests a chance to enter and exit at their convenience. Divided into a bedroom and a living room, renters get one king bed, one double bed, and two floor mattresses. The space captures the serenity of the small town with its wooden planks adorning the walls and the floor.
Fern Villa is a 5-minute walk from the main road, thus requiring guests to manage a short yet steep climb. However, the exotic mountain views from the shared balcony, garden, or patio make the efforts worthwhile.
Rokeby Manor
Rokeby Manor is a country estate and one of the best hotels in Landour, offering stunning views of pine forests and snow-capped mountains.
Started in 1840 by Captain G.N. Cauthy, the establishment still retains its English countryside aura and architecture. He named the mansion after Sir Walter Scott's poem, describing the battles fought around England's native Rokeby Castle.
Currently, this property allows guests to choose different styles of accommodations, including manor rooms, residencies, and suites. With high ceilings, wooden beams, and a vibrant color scheme, the abodes recreate the quintessential vision of classic English villas. Brick arches and stone walls further add to the old-age appeal of the place.
Guests staying at Rokeby Manor can avail the benefits of barbeque facilities, an outdoor jacuzzi, and an in-house spa center at additional charges. Their in-house restaurant, Emily's, is well-known and considered among the best places to eat in Landour.
Guests residing at the manor should also visit their tea garden for a pleasing country-like ambiance and the highlands to watch the region's naturistic charisma at sunset.
The Burrow
For tourists requiring an entire apartment to themselves, among the best places to stay in Landour is The Burrow. Located opposite Doma's Inn, this little romantic nook accommodates two guests and includes one bedroom with one double and one single bed.
Divided into separate sections with floor-to-ceiling glass, the property offers a contemporary artistic vibe often spotted in studios.
Visitors enjoy the valley's unobstructed view from the window and open kitchen space. Decked in dark shades, soft lighting, and plenty of natural light, The Burrow captures the essence of mountain living but mixes it with a contemporary lifestyle.
The entire area spans 644 square feet and is easily accessible by cars. Included in your stay is free parking and breakfast. If planning an extended visit, there is a dedicated working area and free Wi-Fi.