For a teenager like myself, visiting a theme park and going on the most popular Universal Studios Japan rides was arguably the most important event of our trip. Especially since we do not have theme parks of the Disney and Universal caliber in my home country.
During our short holiday to Japan, my brother and I had to choose one theme park to visit between three main options – Tokyo Disneyland, Tokyo DisneySea, and Universal Studios Japan in Osaka.
We went ahead with Universal Studios Japan primarily because it is home to Harry Potter World. Moreover, USJ having more roller coasters was also a deciding factor since I am a thrill seeker and love rides that make my heart pound.
Unfortunately, the day of our visit was a complete disaster as the entire country, including Osaka, received a downpour, leaving us soaking wet and the theme park only partially functioning.
Universal Studios Japan on a rainy day is quite an experience. One that you should avoid, but if left with no other option, make the most of it by doing whatever you can.
So why am I covering only 5 popular Universal Studios Japan rides?
Because most of the roller coasters and boat rides were closed on the day, along with many shops and food stands. This further led to huge crowds at the few functioning attractions, resulting in 60-minute lines at almost all rides.
On a positive note, the best rides at Universal Studios Japan are mostly indoors, and we just about managed to hit them all.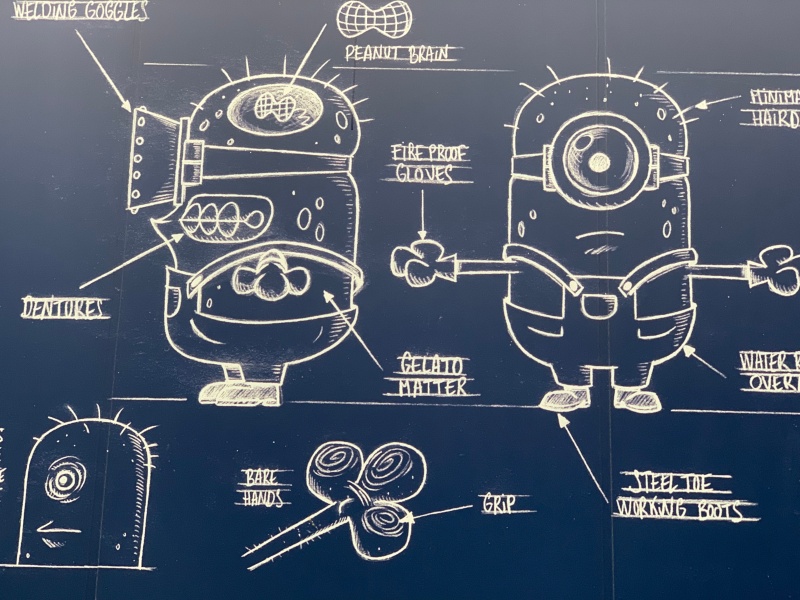 Popular Universal Studios Japan Rides – Reviewed!
There are many attractions at USJ, of which the following rides were the ones I was hoping to experience;
Harry Potter and the Forbidden Journey – Open
Flight of the Hippogriff – Closed for the day
Mario Kart Koopa's Challenge – Open
Yoshi's Adventure – Open
Despicable Me Minion Mayhem – Open
The Amazing Adventures of Spider-Man – The Ride 4K3D – Open
Hollywood Dream – The Ride – Open/Closed
Hollywood Dream – The Ride Backdrop – Open/Closed
Space Fantasy – The Ride – Closed for repairs
The Flying Dinosaur – Closed for the day
Jurassic Park – The Ride – Closed for the day
Jaws – Closed for repairs
Terminator 2-3D – Permanently closed
Backdraft – Permanently closed
From the above list, we managed to complete only five. Here are my reviews of these five popular Universal Studios Japan rides.
Mario Kart – Koopa's Challenge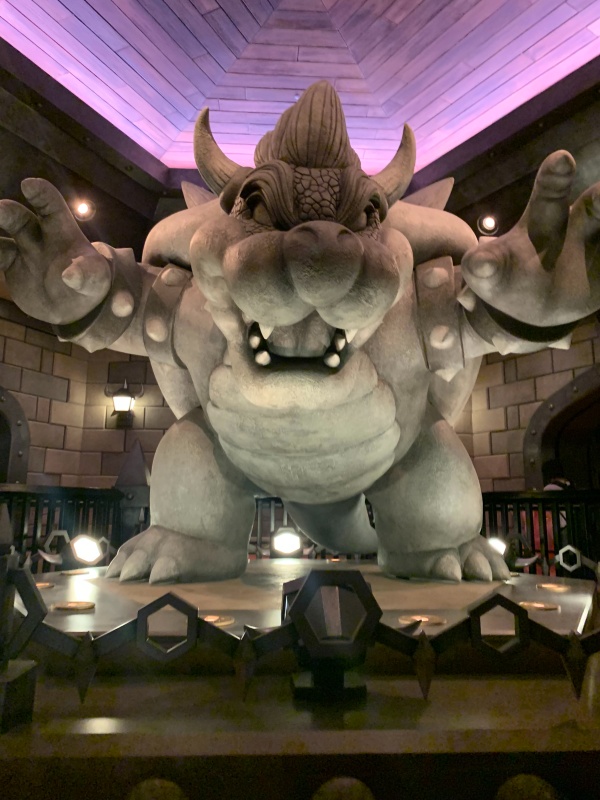 A part of Super Nintendo World, Koopa's Challenge is undoubtedly the highlight of any trip to USJ for most people, including myself.
It is one of the most fun rides the entire family can enjoy. Unsurprisingly, everyone sprinted to Super Nintendo World when the gates opened. As a result, the waiting time for the ride was well over 60 minutes, within 20 minutes of the park opening.
Thankfully, the relatively long queue kept moving, and the indoor-themed staging area had enough to keep the atmosphere lively and exciting. There were various trophies placed along the way, Mario paraphernalia, and even a walk through Koopa's villainous library.
The ride, which included a Mario Kart race, was most thrilling. I was especially in awe of the technology. Before getting on the ride, you get a headset, which connects to Augmented Reality (AR) glasses on the race kart. This seamless blend of AR, projection mapping, and real-life sets made for an immersive race where you feel like a Mario character.
It takes a while to get a hang of things, particularly if this is your first time sitting in Koopa's Challenge. Things get a little easier once you realize that to aim at and thwart other racers, you simply have to look at them.
Like all good things in life, the ride finishes when you start really enjoying it. Had it not been for the long lines, we all would have loved to return for another round.
Ride Rating – ⭐️⭐️⭐️⭐️⭐️
Good to know: King Koopa and Bowser are the same person, and since he plays the central role in the ride, it is known as Koopa's Challenge.
Harry Potter and the Forbidden Journey
As someone who has loved everything Harry Potter for almost a decade, you can imagine my excitement around visiting The Wizarding World of Harry Potter.
So, I am slightly biased when I say The Forbidden Journey is the best ride at Universal Studios Japan.
However, if you go by the hour-long line we had to stand in, I'm not the only one who loves this ride. Thankfully, the staging area is brimming with Harry Potter-themed backdrops once you enter the Hogwarts Castle Walk.
We got to walk through the Hogwarts Greenhouses, the castle dungeons, and the Gryffindor Common Room. Be observant in the "Moving Portrait Corridor," where paintings "come alive."
The ride is a trackless dark 360° attraction that starts with a game of Quidditch being attacked. Eventually, we follow Harry Potter, going up, down, and sideways through the landscape inside and outside Hogwarts Castle.
Now, the dialogue during the ride is in Japanese, but that does not take away from the excitement.
Dragons, spiders, dementors, and more; it was one of the best experiences I've ever had. All the twists and sudden drops made it even more thrilling. Plus, the graphics and projection are top-notch, creating an authentic experience of being in Hogwarts.
My mother was so worried that my younger brother would slip away that she used one hand to shield him during the entire attraction. I should clarify it was a very safe ride, with everyone buckled in securely.
Ride Rating – ⭐️⭐️⭐️⭐️⭐️
Hollywood Dream – The Ride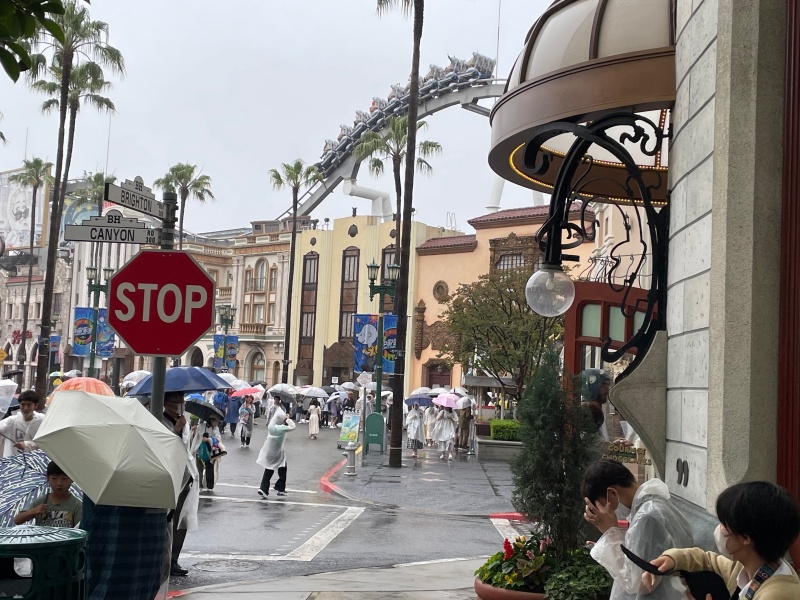 Hollywood Dream is one of the best roller coasters in Universal Studios Japan.
I was so sad that I would miss it because of the rain. But, just as we were leaving, it started for a little while, and I was able to get in through the single rider line.
Can you guess the wait time for Hollywood Dream?
Five minutes. Unbelievable, right?
Hollywood Dream has two versions. One goes forward, whereas the Backdrop goes backward. I wanted to try something different and hoped to pick Backdrop, but the cast members placed me on the forward-moving coaster.
I won't complain because "beggars cannot be choosers," and I desperately needed a heavy dose of thrill.
Compared to other roller coasters I have been on, Hollywood Dream is much smoother, without the clunking noise and vibrations. The ride is a soaring adventure starting with a 43-meter drop and several turns, including a horseshoe, camelback, and double helix.
Best of all, and this was a first for me, the seats have a personal audio system. This means you can individually select one of five songs for the ride.
Hollywood Dream is one ride I highly recommend for heart-pounding action seekers. But I also wonder how it would feel when going backward.
Ride Rating – ⭐️⭐️⭐️⭐️⭐️
The Amazing Adventures of Spider-Man – The Ride 4K3D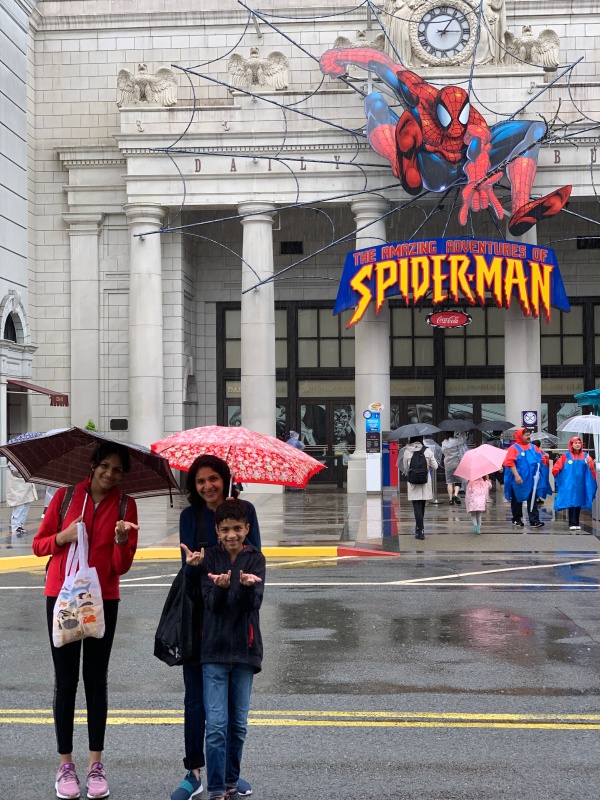 If you ask my father and brother, this was their top ride at Universal Studios Japan. I'm glad my father enjoyed this because he was a little disappointed about Jurassic Park, Jaws, and Waterworld being closed on the day. He was looking forward to these rides as someone who grew up in the 80s-90s and is a film buff.
I, too, enjoyed The Amazing Adventures of Spider-Man immensely. In this ride, we are first strapped into a Daily Bugle vehicle and then swung and thrown around (not literally) as we get a front-row seat to Spider-Man, fighting off iconic villains and saving New York City.
The Amazing Adventures is an award-winning dark ride with a roving motion base, so the movement is limited, but you still get some seriously steep plunging action. Moreover, the attraction has over 100 special effects.
At one point, there was a blast of warm air, which was my favorite part of the ride. Those few seconds of warmth were much appreciated since we were wet and cold from the rain.
Overall, from the Stan Lee cameo to the climactic end, the ride is super interactive. And thanks to the 4D technology, it is pretty realistic.
Ride Rating – ⭐️⭐️⭐️⭐️
Good to know: The Amazing Adventures of Spider-Man-Man will likely close permanently in January 2024. So, now might be the best time to experience this fantastic ride at Universal Studios Japan.
Despicable Me Minion Mayhem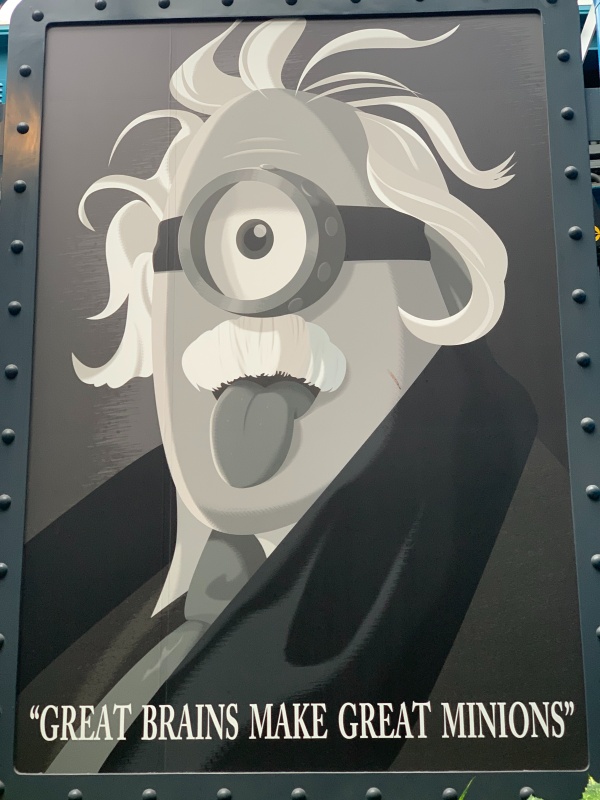 I had big expectations for Minion Mayhem, but unfortunately, it didn't deliver. The waiting for the ride, which I noticed is popular with younger kids, was quite long. As a result, the anticipation build-up was high. In contrast, the ride is short.
Minion Mayhem is a simulator ride with a dome screen. The plot revolves around us becoming one of his minions and having to give a test. We sit in a car designed by Gru and are then taken on a whirlwind ride that sometimes resembles the mobile Minion Run game.
Due to the ride's design, you can see other park-goers around you, which takes away from the total immersion into what's going on the screen.
The comedy is one major saving grace for this ride, which I now firmly believe will appeal more to younger children who love the Despicable Me franchise.
Ride Rating – ⭐️⭐️
Frequently Asked Questions about Universal Studios Japan
Do they speak English at Universal Studios Japan?
USJ is a theme park that welcomes visitors from around the world. So, you might expect everyone to speak fluent English. However, that is not the case. The cast members are accommodating and try their best to convey the message in English. But please remember English is not their primary language. At the same time, most signs, restaurant menus, and ride instructions have English translations.
Can I do Universal Japan in one day?
Yes. Universal Studios Japan is relatively small and easy to navigate in one day. Just get to the park one hour before entry time to make the most of every minute available.
Why is Universal Studios Japan famous?
USJ is Universal's first theme park in Asia. Located in Osaka, it first opened its doors to the public in 2001. Today, it is home to Super Nintendo World, The Wizarding World of Harry Potter, and other unique rides and attractions.
How many rides are there in Universal Studio Japan?
There are well over 60 different shows, rides, and various attractions at USJ.
Is there WiFi in Universal Studios Japan?
Universal Studios Japan does have free WiFi, limited to the park area. However, the coverage can be a little spotty at times. We had a pocket WiFi, which kept us connected.
Is Harry Potter in Universal Japan?
Yes! That is one of the main reasons why we went to USJ. The Wizarding World of Harry Potter has the following attractions;
Hogwarts castle
Hogwarts Express
Hogsmeade
Frog Choir
Ollivanders
Wand Magic
Wand Studies
Three Broomsticks restaurant
Hog's Head pub
Zonko's Joke Shop
Owl Post & Owlery
And more…
Is Universal Studios Japan worth it?
Okay, our trip to USJ was affected by rain, so we could not experience it entirely. Still, I highly recommend planning a day, possibly a sunny one, at Universal Studios Japan, especially if you like roller coasters and fast rides and are somewhat of a film enthusiast.