Art and design, whether contemporary or traditional, have always been an integral part of Japanese culture. A stroll around its capital is an awe-inspiring experience with elements of pop culture, from streets lined with food and toy vending machines to neon-lit and 3D signboards interspersed amongst architecturally futuristic high-rises. However, for a more interactive experience, nothing quite beats teamLab Planets Tokyo, one of the most visited attractions that takes the idea of modern art and places you bang in the center of it all.
Launched in 2018, teamLab Planets Tokyo is a novel idea inviting visitors to immerse themselves in a series of art installations. According to founder Toshiyuki Inoko, the thought behind the presentation is to change "our perceptions of the boundaries between ourselves and the world."
Does it manage to do that? Most definitely. The amalgamation of sound, visuals, and technology is breathtaking as they give each sensory art installation a unique disposition intertwined with nature.
Located in Toyosu, here is everything you need to know about teamLab Planets, an unforgettable experience for all ages, not to miss when in Tokyo.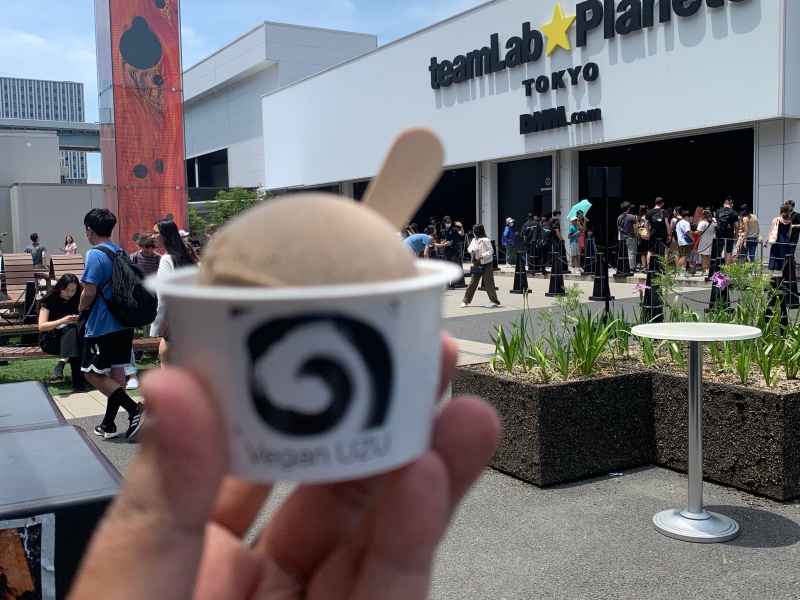 How to reach teamLab Planets Tokyo
The best way to reach teamLab Planets Tokyo is by train. The Shin-Toyosu Station, on the Yurikamome Line, is directly opposite teamLab Planets! If traveling with the JR pass, you can take the Yamanote Line to Shimbashi Station and transfer to the Yurikamome Line. Otherwise, you can easily use a Suica/Pasmo card or get a ticket to the station from anywhere in the city.
Another option, although slightly expensive, is by taxi. However, Tokyo has an excellent public transport system, and spending extra on taxis is something you can easily avoid.
Nevertheless, teamLab Planets is a 10-minute drive from Ginza and 15 minutes from Tokyo Station. For more specific directions from your hotel in Tokyo, you can check the teamLab Planets website.
How to book tickets for teamLab Planets Tokyo
As with many attractions across Japan, it is essential that you book tickets to teamLab Planets Tokyo in advance. We purchased our tickets directly through their website. The process was simple: payment was online through a credit card, and we received the tickets instantly via email.
Alternatively, you can book tickets via a third-party website like Klook. Although not for teamLab, we did use Klook to book tickets for Universal Studios Japan and JR Pass.
When booking teamLab Planets tickets, plan your excursion at least 2 – 3 months in advance. Doing so saves you from disappointment and allows you to pick the specific entry time of your choice. You can try buying tickets on the day of your visit, but it is not always guaranteed.
Another point to remember is that entry is during the time slot picked when booking teamLab Tokyo tickets. These are half-hour time slots starting from 9:00 AM. The excursion is otherwise open all days from 9:00 AM to 10:00 PM. On some Sundays, it closes by 9:00 PM. The last time of entry is one hour before closing. Upon entering, you can stay inside for as long as you like! However, you cannot go back in once you exit the building.
The best entry time for teamLab Planets Tokyo is in the morning. Try to book one of the first few slots. Evenings are also less crowded; the last entry is an hour before closing.
However, when I was researching before booking, some reviews said that installations start to smell in the later slots due to the barefoot nature of the experience. Since we picked a morning slot, this was not something we came across, but it is worth keeping in mind if you have a sensitive nose.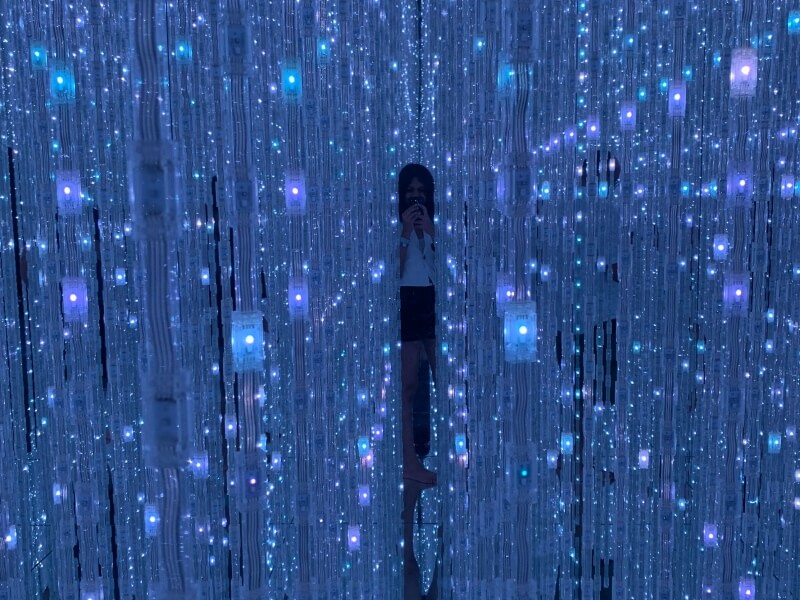 teamLab Planets Art Installations
TeamLab Planets comprises several art installations divided into two sections: Water Area and Garden Area. Below is a list of the showcases we saw and one they recently added.
Waterfall of Light Particles at the Top of an Incline
The light in the installation only reflects in the water particles, creating an effect that looks like light cascading down the waterfall-like ramp. Being the first installation, it's a unique feeling, and I feel a subtle way to clean our feet before proceeding.
Soft Black Hole
The showcase consists of a room where the visitors' movements directly impact other people's balance. As your foot sinks into the floor, the space changes around you, affecting anyone nearby. This allows people to interact with each other through the common space.
The Infinite Crystal Universe
Lights create sculptures and three-dimensional objects in this art piece. The mirrors make it seem like it goes on forever, and visitors can use their phones to select stars created as part of the artwork.
Drawing on the Water Surface Created by the Dance of Koi and People
Digital and interactive koi fish swim on the water that visitors walk in. When they collide with people, the fish turn into flowers that match the season. The Koi's movement depends entirely on the visitors' presence. It's incredible how the computer program renders the changes in real-time as the visitor interaction causes the transformation.
Expanding Three-dimensional Existence in Transforming Space
This artistic space comprises numerous spheres that change color when touched. The surrounding spheres react to the initial touch and change as well. The shape of the space constantly changes as visitors move around the spheres.
Floating in the Falling Universe of Flowers
The continuously changing projection showcases the circle of life and death and is best experienced lying down or sitting still. Visually, this installation is a cornucopia of colors and effects that mesmerized me. Generated by a computer program, previous visuals are never replicated, and so every second is entirely new.
Ephemeral Solidified Light
This new art installation at teamLab Planets is in the Water Area and consists of light and colors interacting with visitors.
Floating Flower Garden
Situated in the Garden Area, it is a three-dimensional mass of flowers. The orchids are alive, constantly growing, and blooming. Visitors are encouraged to look at a flower closely as the flower looks back.
Moss Garden of Resonating Microcosms
Ovoids laid out in the moss; this was possibly my least favorite. Still interactive, the ovoids rise back up when pushed while releasing a resonating tone. They are reflective in the daytime but change into over 50 colors at night.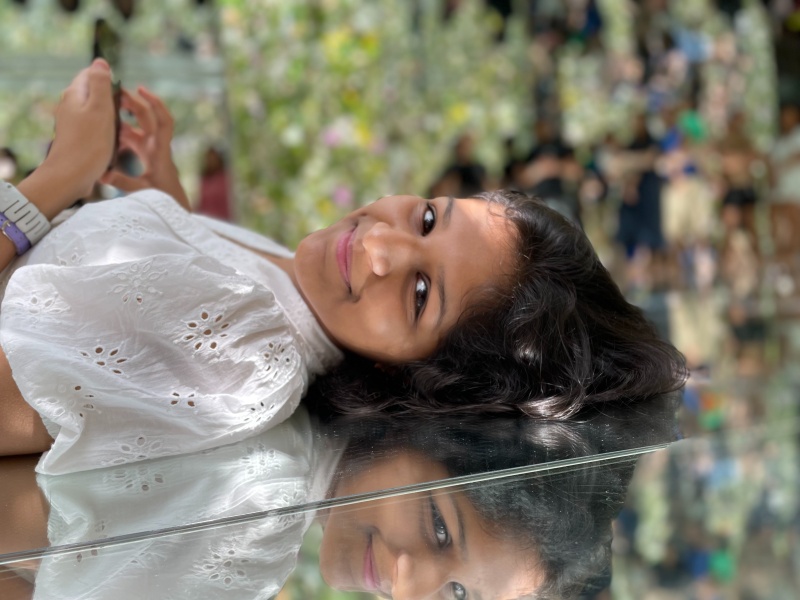 How is teamLab Planets Tokyo – My Experience
We reached teamLab Planets via Train, arriving 15 minutes before our time slot. The line was somewhat long but moved fast when they opened the doors. When standing in line, the staff at teamLab Planets showed a video outlining the rules and points of notice before opening the gates to a locker room for us to keep our bags and shoes.
The installation started in the Water Area, and we headed straight for the Waterfall. Following that was the Soft Black Hole, which I found pretty enjoyable. Although I did fall over, it wasn't quite as many times as my dad, who found it hard to cross the expanse of the room.
All the art installations were extremely fun. The shimmering crystals, the holographic Koi fish turning into flowers when you touch them, and the multi-colored spheres were technological marvels.
However, the installation I liked the best was Floating in the Falling Universe of Flowers. Lying down to watch the never-ending cycle of flowers blooming and dying was surreal. My brother found this a bit dizzying at first but did like it when he and I went back in for another walk through the entire presentation.
Entrance to the Garden Area is limited. The staff forms little groups, which are then taken in for a specific time. The Floating Flower Garden was beautiful. We got to lie down for the best effect during this presentation, which included flowers coming down from the ceiling. The Moss Garden, however, had a mixed reaction. While I didn't have that huge an issue, the rest of my family found it hot and suffocating.
Having gone through all the installations, my parents decided to step out while my brother and I went for a second round. I recommend that everyone does this.
It's even better to leave your phones outside the second time. We immersed ourselves entirely when not focused on taking pictures, especially in installations like Drawing on the Water Surface and Floating in the Falling Universe of Flowers. Without a doubt, I was able to appreciate the art so much more the second time.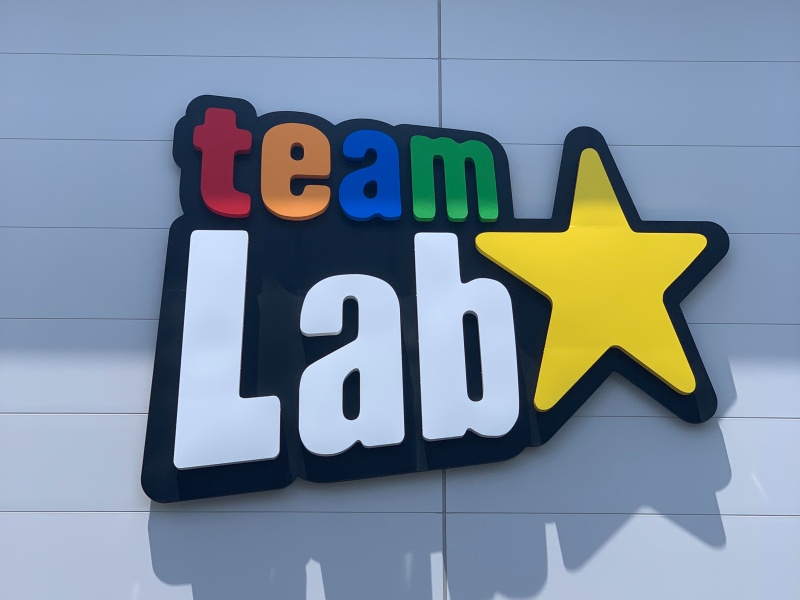 Things to Know About teamLab Planets Tokyo
teamLab Planets is undoubtedly one of the most unique excursions we went on during our trip across Japan. Not only does it display the artistic side of Japan, but it also presents people with a fascinating medium to become part of art.
Here are some things to know about teamLab Planets Tokyo that can help you plan the perfect day.
Is teamLab Planet in Tokyo worth it?
Definitely! The immersive installations are like nothing I've seen before, and the sensory experience is not to be missed. Every room is unique and challenges our senses to interact with the art in new ways.
Additionally, almost all the installations are incredibly Instagram-worthy, so you must get your phone or camera.
I recommend going through the experience at least twice. Once to take photos and a second time just to enjoy the installations, or vice versa.
How long does it take to visit teamLab Planet Tokyo?
That depends on the experience that you want to have! If you plan on simply moving through all the installations, it should take around 30-40 minutes after entering.
Do note that depending on the crowd, you may have to wait 30 to 90 minutes in line before admission. So, factor this into your total time.
Moreover, if you plan to take photos and spend time in each room, it will take an hour or two. Because I went in for another round and we also had food at the next-door restaurant, it took us just over two hours from arriving to leaving.
Why is teamLab Japan closing?
There is some misunderstanding amongst visitors about teamLab Planets Tokyo. The art showcase was initially scheduled to close by the end of 2023.
But, due to popular demand, teamLab Planets Tokyo will remain open until the end of 2027. Moreover, they have added a new installation, which makes it worth a re-visit if you've already been there once.
Can you walk in teamLab Planets?
Yes! TeamLab Planets is primarily a walking experience. You must walk through the different installations, sometimes in ankle or knee-deep water (depending on your height).
TeamLab Planets is wheelchair accessible. However, remember that there are some installations you cannot access, especially the water-based ones.
What should I wear to teamLab Planets?
One of the most common questions asked is what to wear at teamLab Planets.
Some installations include water, while others have mirrors on the floor, so you do need to dress appropriately. Here is a list of clothing I suggest you wear or don't wear;
Easy-to-remove shoes and socks. You will have to place them in lockers before entering the areas. You will be asked to go in barefoot.
You can bring a regular-sized backpack as the lockers are big enough to store them.
Comfortable pants or shorts, but no skirts or dresses, as some installations have mirrors on the floor. Luckily, teamLab Planets has free rental shorts available.
Once again, roll up pants or shorts, as the water in some installations may reach up to your knees.
You do not need to get a towel as the staff provides them to dry your feet whenever necessary.
Is there a place to eat in teamLab Planets?
Yes! While not inside the main building, the oh-so-famous Vegan Ramen UZU Tokyo is in the plaza of teamLab Planets.
You can visit the restaurant without needing a ticket for teamLab Planets. Nearby, you will also find outdoor installations like Reversible Rotation and Table of Sky and Fire.
The restaurant is popular for serving Vegan Miso Ramen, Vegan Ice Cream (Pistachio Green Tea, Pink Rhubarb, Chocolate Dark Cacao, and Soybean Flour Coffee), and various hot and cold drinks. My mother bought the Vegan Ramen (she's a vegetarian), while my father got the vegan ice cream, and both were delicious!
Is teamLab Planets good for kids?
The best part for teamLab Planets is that all ages can enjoy it. We were a family of four with one child under 10, a teenager, and two adults. We all had a great time inside, and we certainly took home different learnings and appreciation for art from the experience.
How much are the tickets for teamLab Planets Tokyo?
Admission tickets for teamLab Planets as of now are JPY 3,800 for Adults, JPY 2,300 for high school students, JPY 1,300 for children between ages 4-12, and free for anyone below that.