After living in the shadows of Tokyo's urban hustle and Kyoto's cultural grandeur, Osaka is rapidly gaining its rightful popularity on the tourism stage. The city is undoubtedly "different," offering a blend of futuristic, vibrant lifestyle and timeless Japanese heritage.
Add to that Osaka's growing fame as the "kitchen of Japan" for providing exotic and flavorsome Japanese street food, and a stop here is a must on any Japan itinerary.
Consequently, the number of boutique hotels in Osaka is gradually proliferating. These world-class accommodations give tourists a much-needed break from standardized hotels while allowing a sense of cultural immersion and a cozy atmosphere.
From luxury retreats to small-scale properties and luxury residences that place you inside a train station, the best places to stay in Osaka simultaneously provide versatility, service, comfort, and convenience.
Bespoke
Address: 2 Chome-6-25 Minamisenba, Chuo Ward, Osaka, 542-0081
Google Location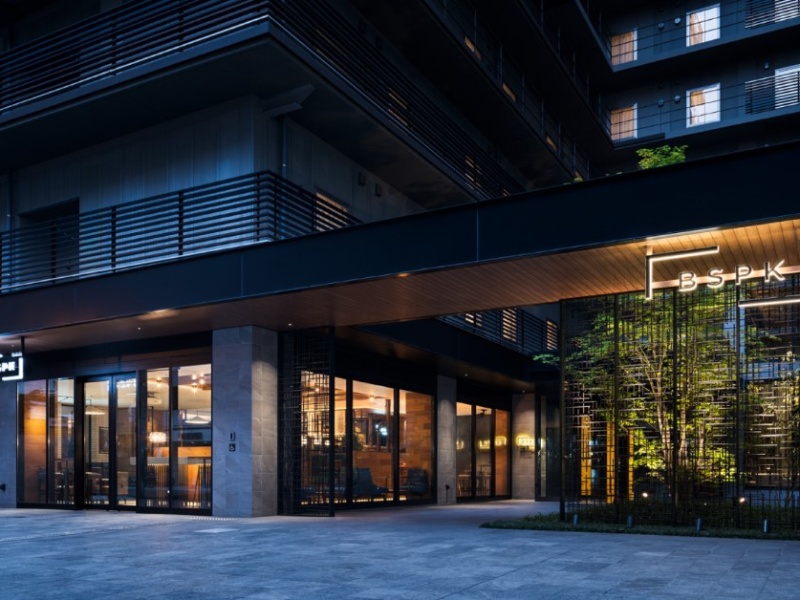 A part of Japan's BSPK chain, Bespoke in the Shinsaibashi district reflects the city's close association with culture and art. Conveniently situated 600m from Shinsaibashi station, it offers proximity to several tourist spots like Namba Shrine, Tsutenkaku Tower, and Dotonbori.
Bespoke's facade resembles a modern high-rise, seamlessly blending in with other buildings in the neighborhood. The entrance lobby boasts a shiny black floor, with furniture of muted tones and indoor plants to maintain a sophisticated, sleek look. On strolling through the space, one will find unique Japanese motifs and photos showcasing different facets from and around Osaka.
Rooms at Bespoke Hotel follow a contemporary monochromatic pattern, with basic amenities like free WiFi, a reading table, TV, and jinbei, a traditional Japanese pajama set you'll find in most hotels in Japan.
Additionally, each room has a curtain with a quirky graphic pattern representing the city landscape, giving the room a contemporary character.
Back from a day of exploring, visitors can relax at the BSPK bar and lounge, serving Kansai craft beer, tea, and coffee on the hotel's ground floor.
Hotel Sobial Namba
Address: 2 Chome-2-5 Shikitsunishi, Naniwa Ward, Osaka, 556-0015
Google Location
Next on the list of vibrant and eclectic boutique hotels in Osaka is Sobial Namba. Situated in Minami, the establishment is a mere 450m from Imamiya train station. This central Osaka location puts it amidst the hustle and bustle of the entertainment and shopping districts.
At first glance, Sobial's multi-story building maintains the elegant charm of being a 4-star property. The reception exudes a chic vibe with an all-white backdrop and beige wooden elements. However, the careful placement of solid-colored furniture makes the space stand out.
Accommodation at Sobial Namba is an amalgamation of art and practicality. Rooms are spacious with all creature comforts like luggage storage, a writing desk, and soundproof windows.
To further relish the authentic Japanese experience, guests can have the opportunity to enjoy the healing powers of an on-site public bath (onsen).
THE BOLY
Address: 2 Chome-1-16 Kitahama, Chuo Ward, Osaka, 541-0041
Google Location
If you want views of the Nakanoshima River that runs through the merchant town, THE BOLY in Kitahama is the go-to spot. What once was an interior design office is now a hotel with a welcoming ambiance and eccentric personality.
The BOLY is like a free-spirited space reminiscent of a funky artist's studio, made more appealing by sophisticating the decor. Multiple photo frames, album covers, and murals all over the place give the property a uniquely young aura.
The hotel has 14 rooms of five types. The Kitahama Atelier, with its sun-facing direction, is a petite space ideal for a single or couple to cozy up. Other rooms at The BOLY include spacious residences and a Riverview double with an attached terrace.
A standout feature in the bathrooms at the hotel is the Panasonic i-X shower system with personalized space merging Bluetooth connectivity and lighting.
The on-site restaurant TOSA serves a contemporary breakfast, a cafe menu for lunch, and sushi for dinner. Head to the rooftop terrace at night for sweeping views of Osaka Central Public Hall and Nakanoshima River.
Although The BOLY is prone to occasional noise from subway trains passing beneath the building, you get free earplugs to mitigate the same.
Koko Hotel
Address: 5 Chome-8-25 Nipponbashi, Naniwa Ward, Osaka, 556-0005
Google Location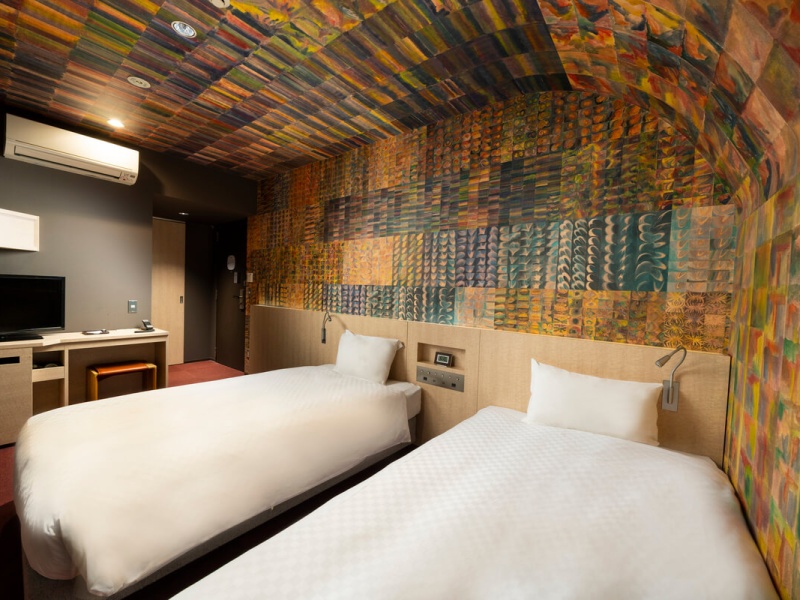 Formerly known as WBF Art Stay Namba, Koko Hotel is where the concept of design and utility meet. Located in the Minami district, the hotel displays, as part of its decor, artworks from renowned professionals as well as kids from a support home in Thailand.
From the outside, the hotel shares space with a well-lit restaurant that resembles a tunnel covered with exquisite patterns. The side entrance leads to the lobby, where you can pick up bathroom amenities, including a range of shampoos, before heading to your room.
A great way to limit waste, more and more hotels in Japan are opting for self-service free amenities in their lobbies – a sustainable move in the right direction.
While Koko's central location is much-loved, its rooms are more compact. They follow a simple black-and-white decor scheme, with scribblings by the kids giving the space a flash of color. At the same time, the professionally designed deluxe twin rooms have curved ceilings and mosaic-like patterns.
Not short on amenities, all the rooms are clean and cozy, and even have smartphones for personal use during the stay.
Making Koko one of the best boutique hotels in Osaka is the opportunity to sign up for a free membership, which grants you access to complimentary beverages, ramen, and free bike rental.
Waqoo Shitaderamachi
Address: 12 2 Chome-5-12 Shitaderamachi, Tennoji Ward, Osaka, 543-0076
Google Location
Spiritual boutique hotels in Osaka, in the form of shukubo (temple lodgings), present travelers with the opportunity of an experiential stay.
Waqoo Shitaderamachi is one such place near the Shitennoji shrine. Near 80 temples and the old Shinsekai neighborhood, it is a learning haven for authentic Buddhist culture with an ambiance of purity and serenity.
The abode represents a zen Japanese space, with multifunctional halls covered in tatami mats and a learning hall. Fragranced with incense sticks, rooms blend modern luxury with calm and minimalist Asian aesthetics. Guests can expect amenities like samue (monk clothing), an attached bath, and slippers for personal keeping.
At Waqoo Shitaderamachi, you can sign up for cultural activities like Zazen (sitting meditation) and Shakyo (sutra transcription) for a truly immersive experience. Meals are straightforward and include Shojin Ryori (vegetarian Buddhist cuisine) for dinner and porridge for breakfast.
Hotel it.
Address: 4 Chome-6-20 Shinmachi, Nishi Ward, Osaka, 550-0013
Google Location
Located in Nishi ward, near Samuhara and Tosa Inari shrines, the Hotel it. is an all-in-one destination, incorporating a boutique stay with a lively party-like atmosphere.
Having the motto "weaving time and people together," Hotel it. offers a stylish and comfortable living experience with a heavy indulgence in design, positivity, and retro-chic concept.
The hotel has a shared living room, a naturally lit hall with white interiors and pastel furniture, and a wooden terrace deck for socializing.
Family rooms follow a monochromatic off-white decor scheme with warm wood embellishments. Throughout the space, you will spot seamless tartan integration, from linens to amenity pouches. The five colors of the tartan signify different aspects that form the "DNA" of the hotel.
Another eye-catching element that stood out was the artistic lamps with bulbs in a thread-like enclosure that make for a dramatic shadow effect.
The hotel's on-site restaurant, it.oven, serves Italian cuisine cooked in wood-fired ovens with all-natural ingredients. Moreover, with a hi-fi sound system, the bar creates a club-like ambiance at night, perfect for mingling with other guests after a day in the city.
Cabin & Capsule Hotel J-Ship
Address: 2 Chome-2-14 Minatomachi, Naniwa Ward, Osaka, 556-0017
Google Location
Initially meant for short-term business guests, capsule hotels are now an undeniable part of Japan's tourism experience. J-Ship in Namba is thus an excellent option for travelers wanting a budget boutique hotel in Osaka.
The capsule hotel places guests in individual capsules or pods inside communal sleeping quarters.
However, a luxury factor certainly exists as the hotel imitates contemporary Japanese minimalism, with linen-patterned kumiko (wood-crafted screens) and floral arrangements that give the spaces a touch of brightness.
Men and women have separately designated floors, each with public spa and bath facilities. Lined up in a dormitory-like pattern, the sleeping cabins have single beds covered with rolling screens.
The women's floor includes a spacious powder room with amenities like hair dryers and curling irons.
The top floor includes a small Japanese garden and a shared lounge. There are over 600 comics for guests interested in reading.
Cabin & Capsule Hotel J-Ship lacks an on-site restaurant, but there are vending machines and plenty of places to eat nearby.
Nono Namba
Address: 1 Chome-4-18 Nipponbashi, Chuo Ward, Osaka, 542-0073
Google Location
Picking a hotel near a train station allows easy connectivity, especially when planning to cover different parts of Osaka daily.
Hotel Onyado Nono Namba on Sakai-suji Street is a fitting option for such a stay, placing it among the best Osaka boutique hotels. It's merely a minute's walk from the Nipponbashi station and is two doors next to a 7-Eleven.
Nono Namba is a Japanese establishment to its core with a strict no-shoes policy and tatami mat flooring. Covered with traditional entry curtains (noren), the facade leads to a minimalist lobby covered in warm lighting and earthy tones.
Rooms, though compact, have all amenities like a refrigerator, electric kettle, and shoji screens on windows.
Hotel Onyado has gender-separated public baths & spa facilities, including natural hot springs to alleviate coldness, fatigue, or muscle pain.
The on-site restaurant serves regional meals. However, complimentary ramen, ice cream, or yogurt is available for late-night cravings.
Zentis Osaka
Address: 1 Chome−4−26, Dojimahama, Kita Ward, Osaka, 530-0004
Google Location
A first of its kind among design boutique hotels in Osaka, Zentis' construction helped prepare the city for the summer 2020 Olympics. With British designer Tara Bernerd as the interior decorator, the five-star establishment showcases minimalist architecture with a natural color palette.
Based in a 16-storey tower in the Dojimahama neighborhood, Zentis is the newest addition to the Palace Hotel Group portfolio. The glass-clad exterior, surrounded by lush greenery, leads into a relaxing space with a large bookshelf, modern fireplace, neutral-toned furniture, and an attention-grabbing blue limestone staircase.
There are 212 rooms, most being spacious and naturally-lit studio accommodations. The quarters seek inspiration from bento boxes, drawing clean lines to delineate separate functional sections.
Zentis' restaurant, Upstairz, has a Michelin-star record team specializing in fusion cuisine melding Japanese ingredients and French cooking techniques.
Additional facilities include Room 001(a multipurpose space with a library, laundry, and fragrance bar), a guest lounge for socializing, a garden terrace, and a fitness center.
Hotel Noum Osaka
Address: 4 Chome-1-18 Tenma, Kita Ward, Osaka, 530-0043
Google Location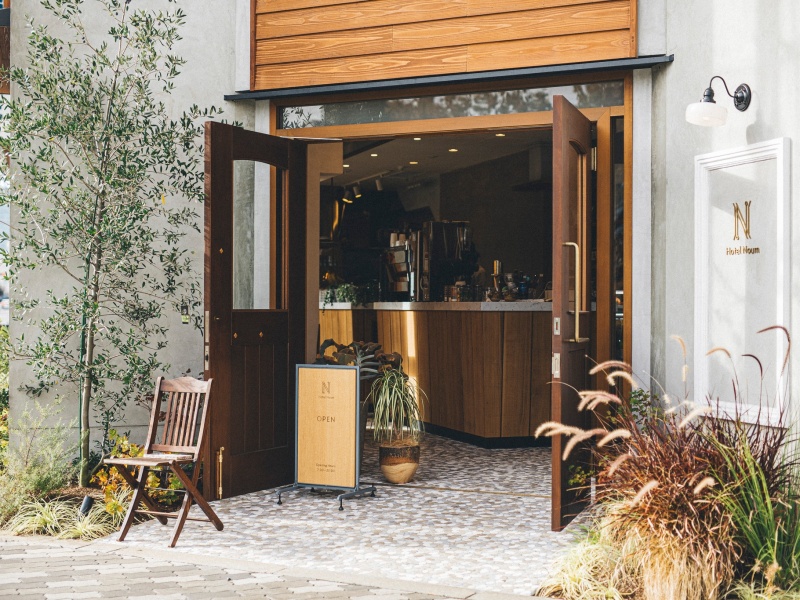 Finding a peaceful corner in the city's center can sometimes be a chore. Thankfully, Hotel Noum serves the purpose ideally.
Located in the Kita neighborhood, the 50-room hotel is beside River Okawa and 350m from the Temmabashi tube station.
All it takes is a glance to notice that Noum exudes an oasis-like aura with greenery and subtle wood accents. An understated attention to detail and emphasis on sleek design further enhances the serenity of the residence.
The rooms have muted white tones for warmth, indoor plants add a pop of color, and soundproof windows ensure a restful night.
Rooms are available as singles, doubles, twins, and the Riverview King. The latter comes with floor-to-ceiling windows, offering unobstructed views of the riverside park. In-room features include bath amenities, free WiFi, slippers, and pajamas.
Hotel Noum's cafe starts complimentary breakfast at 7 AM and sources coffee from renowned BERTH Coffee in Tokyo. Once done, go ahead and rent a bicycle from the reception for a quick ride in the less crowded areas of the city.
Hotel Granvia – Osaka JR Station
Address: 3 Chome-1-1 Umeda, Kita Ward, Osaka, 530-0001
Google Location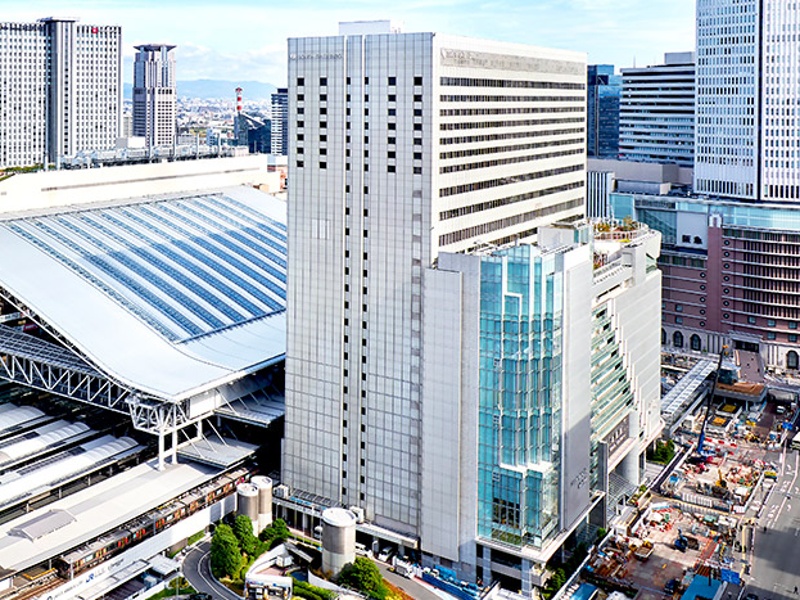 As far as luxury boutique hotels in Osaka go, Hotel Granvia is among the top. As part of the JR Hotel Group, the brand maintains immaculate standards nationwide, promising a comfortable stay every time. Best of all, Hotel Granvia's location above the central JR station in Osaka places you amidst numerous shopping, eating, and transport options.
The hotel portrays a sophisticated, atmospheric ambiance with darker shades, giving the lobby a moody aura. The rooms are of a good size by Japanese standards and come with all modern-day conveniences like soundproofing, pillow menu, humidifier, rain shower, TV, and air-conditioning.
Osaka being foodie-central, Hotel Granvia presents its guests with an array of dining options. There's casual Japanese at Shizuku, teppan-yaki at Kiryu, comfort cafe food at Ignite, and the best in French cuisine at Fleuve.
Dotonbori Hotel
Address: 2 Chome-3-25 Dotonbori, Chuo Ward, Osaka, 542-0071
Google Location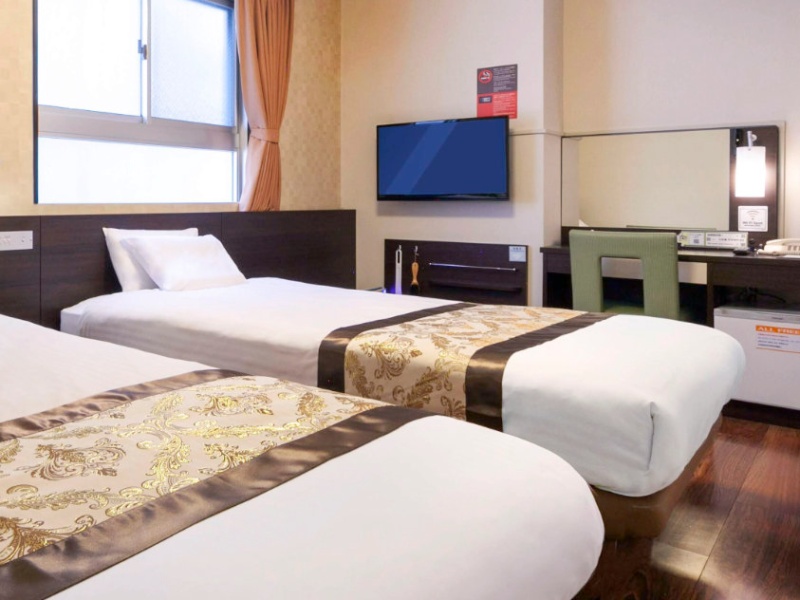 We suggest stopping by the Dotonbori Hotel for a photo-op even if you aren't planning to stay there. Only a few minutes from Namba station, the hotel is famous for its facade, consisting of four quirky face pillars welcoming people from all walks of life to come and stay.
Inside, the hotel is more subtle in appearance, with rooms bathed in neutral color tones, creating soothing spaces. There's no shortage of features, though, as all abodes come with bottled water, a TV, a bathtub, bathroom amenities, access to free laundry, WiFi, and a massage chair.
What makes Dotonbori Hotel one of the best boutique hotels in Osaka is the freebies that range from complimentary PC use and portable WiFi to strollers and ramen with beer.
Kamon Hotel Namba
Address: 2 Chome-3-33 Sennichimae, Chuo Ward, Osaka, 542-0074
Google Location
Are you planning a budget holiday in Japan? Check out Kamon Hotel in Namba next to Nippombashi Station, a cool and hip city hideaway beautifully showcasing modern Japanese aesthetics.
We particularly love how the hotel integrates pop art into the rooms while the common spaces highlight the exotic nature of traditional Japanese design.
The rooms are available in Western and Japanese style. Either way, they have mellow interiors focusing on colorful art that stands out among the otherwise cozy abodes. Facilities include en-suites, TVs, coffee makers, and safe.
Frequently Asked Questions
Which area is best to stay in Osaka?
Generally, staying near a train station, anywhere in Japan, is best. This allows ease and convenience of travel within and between the cities.
Due to their excellent connectivity, Namba and Umeda are the best areas in Osaka to stay.
Namba is close to many tourist spots, some of which, such as Dotonbori, are within walking distance.
Umeda is the commercial part of Osaka with tall skyscrapers, often underrated restaurants and eateries, department stores, and a few sightseeing options.
The area around Universal Studios also offers excellent hotels. If staying in this neighborhood, you should factor in about 30 minutes of train travel to reach the city center.
Which is better to stay Kyoto or Osaka?
We recommend staying in both places if you have a few extra days. However, since they are near each other, many travelers prefer to stay in one city and visit the other on day trips.
Osaka promises plenty of family-friendly attractions, a lively nightlife, and a thriving food scene. On the other hand, Kyoto is like an old soul, brimming with antiquity, shrines, ancient neighborhoods, and a vintage vibe.
Couples and those interested in history or looking for serenity and a quieter nightlife (places shut down late evenings) will find Kyoto to their liking. Families and those wanting to stay up till late will enjoy Osaka more.
What is cheaper to stay Kyoto or Osaka?
Even though Osaka is more cosmopolitan, hotels in Osaka are cheaper than in Kyoto. However, you will find accommodations for all budgets in both cities, ranging from the uber-luxurious to pocket-friendly capsule hotels.
Is it better to stay in Osaka or Tokyo?
The two cities can't be further apart in temperament and offerings. Osaka feels compact compared to Tokyo, is less touristy, and is a must-visit if traveling with children. The culinary options, especially Japanese street food in Osaka, are world-renowned.
Tokyo is a true-blue metropolitan city of the world, busy, less personal, and always on the move. If you're looking for bright lights, endless nights, the rush of being surrounded by big buildings, and numerous dining and shopping opportunities, Tokyo is an excellent choice.
Compared to Osaka, boutique hotels in Tokyo are more expensive, especially if you wish to stay in the popular central districts.